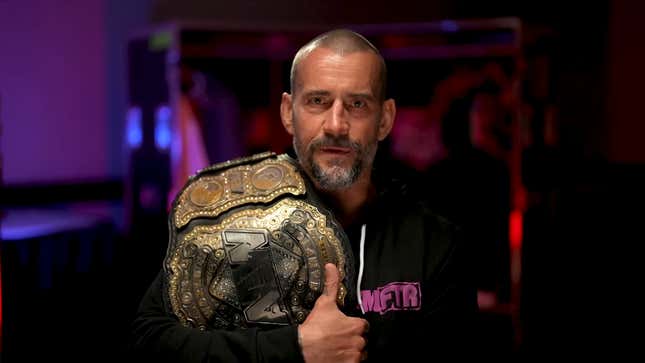 CM Punk has been fired by All Elite Wrestling. The 44-year-old wrestler allegedly got into a backstage altercation with Jack Perry before AEW's All In pay-per-view in London on Sunday, and was subsequently suspended before his dismissal.

Who walks out of Full Gear as AEW World Champion? | Predictions
The beef allegedly stemmed from the so-called "Best in the World" objecting to Perry using real glass for a spot on AEW's new Saturday night show Collision.

"The story was that when Jack Perry wanted to do this spot, CM Punk said, 'We're not using glass. We don't use glass around here,'" Wrestling Observer's Bryan Alvarez said. "And the story was something like, 'CM Punk was afraid that Jack Perry was trying to do a spot where he would be cut up, so he wouldn't have to go to work.' So I heard that and was like, 'Wait a second.'
Perry seemingly referenced the incident when he took on Hook during All In's preshow. Jack, the son of Beverly Hills, 90210 actor Luke Perry, looked into the camera and uttered "It's real glass, go cry me a river" while brawling near a car — and before being suplexed through the windshield.

Punk and Perry exchanged words once the latter returned backstage. What happened next is up in the air, but witnesses have agreed that things got physical. A "neutral source" said Punk shoved, punched, and choked Perry in front of AEW owner Tony Khan.
"Once things were broken up, Punk allegedly 'lunged' at Khan before telling the AEW boss he would be quitting the company," the Wrestling Observer reported.
AEW and Khan released a statement regarding Punk's firing, which comes nearly a year to the day since his fracas with the Young Bucks, Kenny Omeg and others after All Out — since dubbed "Brawl Out."
"The termination of his AEW contracts with cause is ultimately my decision, and mine alone," said Khan, who is also a part-owner of the Jacksonville Jaguars.
Recently Punk, who seemed to be working in a producer/booker role, reportedly confronted Ryan Nemeth for comments the latter made on Twitter/X about him.