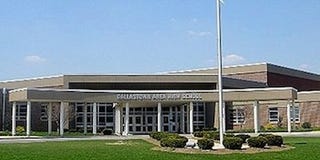 The former varsity wrestling coach at Dallastown Area High School in central Pennsylvania was cited for disorderly conduct a couple of weeks back. His offense? Back in January, he allegedly told his wrestlers to hit one of their teammates. Let's let Chuck Murphy, the deputy prosecutor, explain why:
"One of the wrestlers was, for lack of a better term, passing gas," Murphy said. "The comment was made that if he did it again, other wrestlers could hit him."
Some of the wrestlers followed through on the coach's request, though it's not known how many. The coach, Matthew Striebig, is no longer the team's coach, though the school district said his departure was unrelated to the incident.
The school district superintendent tried to clear the air by acknowledging that Striebig's comment "was supposed to be lighthearted," but that it was "something we do not condone." Stiebig was placed in a diversionary program and will have his record expunged once he completes 35 hours of community service. Reached by the York Dispatch for comment, Striebig said, "It's not a very interesting story." The farting youngster was not injured.