Because no one reads the newspaper, and SportsCenter's anchors are too perky for this early in the morning, Deadspin combs the best of the broadsheets and internets to bring you everything you need to know to start your day.
•The Patriots "crushed" the Jets 45-3. Tom Brady threw four touchdowns and Mark Sanchez threw three interceptions, and this may be the best Jets highlight of the night. Rex Ryan was very embarrassed in the post-game press conference, calling it his career's biggest butt-whupping. Brady chose to quote his coach: "When you win, say little. When you lose, say less." (Screengrab via 30fps)
•Mike Wilbon wrote his final column for the newspaper you'd forgotten he still worked for and then forgotten he was leaving.
•So nice of Oregon's LaMichael James, Stanford's Andrew Luck, and Boise State's Kellen Moore to make the trip to Times Square on Saturday to celebrate as Auburn's Cam Newton is awarded the Heisman Trophy.
G/O Media may get a commission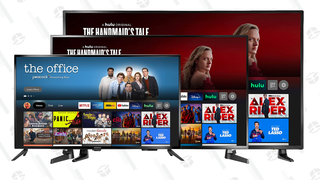 Up to 44% off
Prime Early Access - Insignia Fire TVs
•Ben Roethlisberger's nose got fixed, but you can still buy this tasteful sweatshirt for $16.
•The NBA now owns the New Orleans Hornets.
•Despite straining the sternoclavicular joint in his throwing shoulder, Brett Favre may play on Sunday. LeBron James relates to him because they both have old fan bases that hate them. Awww.
•Albert Haynesworth is mad at all the haters.
•The Miami Heat have won five straight. Good for them. So have the New York Knicks.
•A man in Eugene, Oregon legally changed his name to Captain Awesome. His signature is "a right arrow, a smiley face and a left arrow."
•Gingerbread Yankee Stadium? Gingerbread Yankee Stadium!
•••••
Good morning, everybody.