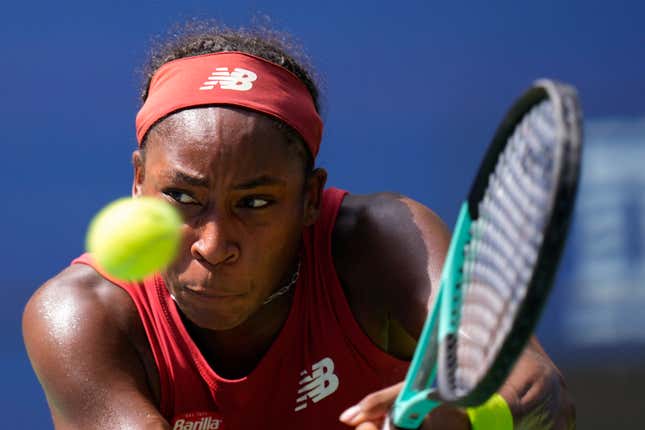 They used to not want Althea Gibson's "kind" around. Now we don't know where tennis would be without them. That's how you ace an opportunity.
Being a Tennis Gladiator like Roger Federer | Bear Grylls' Ultimate Sports Fantasy
It doesn't matter if Coco Gauff loses on Thursday in the semifinals of the U.S. Open or wins it all, history has already been made — again — by a Black woman in the sport of tennis. The 19-year-old became the first American teen to reach the semifinals at the Open since Serena Williams did it in 2001 — almost three years before Gauff was born.
"I'm still in the mindset that I'm in the beginning of the tournament," Gauff told reporters. "That's what I have learned in the past [from] being in quarterfinals. Before, I would think, 'Close to the end.' But right now, I have the mentality that I told myself, 'I still have another two weeks to play.' So that's where my mind is at. Then, obviously, when it's over, it's over. But right now, I'm just saying, 'Another two weeks.'"
To say that Black women own tennis would be an understatement, as they've become the entire sport. And if you disagree with that statement it'll be because you wrongly think it's dipped in American arrogance or you hilariously believe that there's been some combination of white male and female players that have been able to dominate center court for the last few decades like Black women have.
And if you're of that thinking, you're no better than the haters that Gibson had to deal with back in the 1950s.
"This Year's U.S. Open Belongs to Coco Gauff, Win or Lose. It has become clear that Gauff, at age 19, is the queen of this U.S. Open," reads the headline of a recent piece from the New York Times — by a white male writer.
And if that wasn't enough evidence, check this out from SportsMediaWatch — which was written before Gauff's Round of 16 match last Sunday:
"US Open viewership was bound to decline from last year, when Serena Williams' swan song delivered some of the largest tennis audiences in ESPN history. In the absence of Williams, Coco Gauff has emerged as the biggest name — and ESPN will need her to build on her summer success and make a deep run in order to drive viewership. She faces Caroline Wozniacki in the round of 16 Sunday, and while the schedule of play has yet to be released, it stands to reason the match will be featured in ABC's new mid-afternoon window — the first US Open window on broadcast television in nine years. Between the matchup, the network, and the fact that last year's Williams-fueled ratings boom had already faded by the weekend, expect a solid increase in viewership."
But to truly understand how Black women have gotten to a place in which a sport with a history like tennis is owned by women who look like them, you have to realize all the hurdles they've overcome while dominating the sport. Because when you're a double minority, mastering your sport isn't good enough. You also have to be an expert at dealing with the bullsh*t that comes your way.
Like…
When "the media" and others create a fake rival — that you've historically pummeled — because no one had ever been good enough to be an adequate longtime opponent for you. Yes, I'm talking about the pathetic narrative around Maria Sharapova and Serena Williams.
Or…
How about when the sport's most famous tournament knows it's nothing without you, and grants you a wild-card entry to participate — at age 40 — because everyone knows there's no point in watching if you aren't playing. Yes, I'm talking about last year's situation between Serena Williams and Wimbledon. But, I'm also talking about this year's situation with Venus Williams and Wimbledon when they granted the 697th-ranked and 43-year-old a wild card in June.
And don't forget about when…
Margaret Court went full Jan Brady and dared to say that Serena Williams didn't "admire her '' because she was jealous that everybody was talking about the number of Grand Slams that Williams has, and not her, proving that envy and racism were the only true rivals that Serena ever encountered. It's similar to how so many in "the media '' and within the sport take such offense anytime Naomi Osaka does what's best for Naomi Osaka, and not the tennis world.
The thing about golf and tennis is that in individual sports, one person truly can be the face of something, which is different from football, basketball, hockey, and baseball when you're part of a team. In the 1990s and early 2000s, tennis was full of male and female stars from America and across the globe. But, something changed when those two little Black girls with beads in their hair showed up — and the sport hasn't been the same sense. From Venus and Serena Williams to Sloane Stephens and Madison Keys — in smaller doses — to Naomi Osaka and Coco Gauff, tennis' popularity and growth has been caused and sustained by Black women in skirts — and catsuits. And if you have an issue accepting that, then that's a double fault.