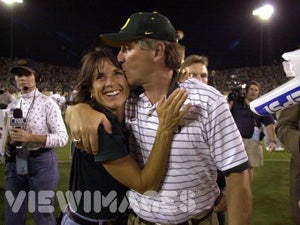 Colleen Bellotti-who may or may not be the First Lady of Oregon football-laid in to the Oregonian's John Canzano at Saturday's game, and she didn't care who was around. Canzano had written some uncomfortable stories regarding Bellotti's son's DUI, which is pretty odd, considering he's also a member of the team. The columnist kept the account out of the print edition (where the old people might see it) and put it straight on the blog.

She leaned in, grabbed by my suit lapel, and lit into me with a string of expletives, asking me if I have children, and telling me, "This is going to come back on you tenfold." And she threatened to slap me, which I thought was not such a nice example to set in front of the kiddies.

I told her that it played especially poorly to me that she would approach me in the press box, with a strong smell of alcohol on her breath, hissing and spitting mad, talking to me about alcohol abuse.

Then, the nanny, still holding the toddler, unleashed a foul-mouthed tirade.

"Nice nanny," I said.

[Buckhantz] Dagger! [/Buckhantz]
Something tells me this is going to get worse before it gets better. Now I really want to see them in the National Championship. Just think of all those open bars, they're sure to run-in to each other.