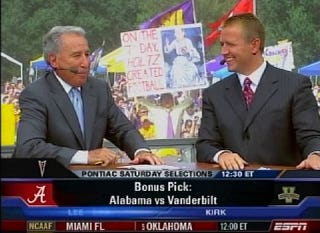 Drew wrote a thoughtful piece about ESPN's traveling band of college football analysts that we probably should have run yesterday. I still think it's semi-pertinent since these guys are the exact opposite of the professional counterparts that we'll be tolerating today, who seem to excel at nothing else other than jerking each other off under a very expensive desk. Enjoy. -MMP
We sports blog folk are constantly derided for bitching about everything the mainstream media does. We hate every announcer. ESPN does nothing right. Blah blah blah. This is not true. It's just not very fun to write about what I LIKE. If it were all kitten and puppies and rainbows and shit, that wouldn't be very interesting.
Personally, I still enjoy some of what ESPN and their ilk have to offer. I think Ron Jaworski has been very good in the MNF booth. And I still like watching College GameDay whenever I get a chance to see it. In fact, College GameDay is, far and away, my favorite pregame show for any sport (I don't watch the NBA, so I can't vouch for "Inside The NBA". But watching Barkley eat ribs on camera sure SOUNDS fun.).
College GameDay has changed somewhat over the years. But, at its essence, it remains virtually unchanged from when I watched it in college a decade ago. You've got Chris Fowler, the consummate pro, guiding you through the day's action. You've got Lee Corso acting like a less annoying version of Dick Vitale. And you've got Kirk Herbstreit over on the side, applying a second coat of self-tanner. Throw in 10,000 already drunk college kids, dirty signage in the background, and the occasional field piece from Shelley Smith and/or Steve Cyphers, and you've got yourself a solid way to spend 90 minutes on a Saturday morning.
Of course, GameDay isn't without its faults. Plenty of diehard fans out there are more than happy to tell you all about how biased Corso and Herbstreit can be. I've always thought Corso was kind of a lapdog for Bobby Bowden. And I could do without Rocket Ismail altogether. Some have also argued the show has slipped over time. But, frankly, I'm not obsessive enough about college football to get too worked up about any of that.
I just like the fact that GameDay features three guys who have good chemistry performing a very basic task, and performing it well. There's nothing too fancy about GameDay, which is why I like it. Compare that to NFL studio shows, where five new ex-players are crammed onto the set each year, without regard to chemistry or ability. But WITH lots of cartoon robots, miniature playing fields, dumbfuck weather girls, and all kinds of other pointless shit I don't need. It's a little much. It's a LOT much. I fucking hate it.
I often think of what it would be like if Fowler got to host an NFL studio show, on the road, with just one or two other guys to do analysis. No forced laughter. No jock-sniffing. No road runner special effects. It could happen one day, right?
Nah.