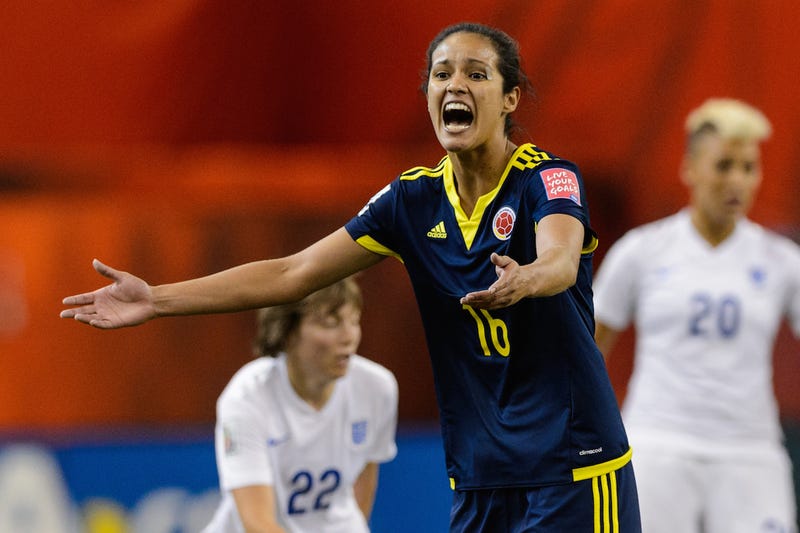 Colombia aren't afraid of anybody. They weren't afraid of France (who they beat in the group stage), they weren't afraid of England (who they lost to while still looking pretty damn good), and after making it to the Round of 16 and drawing one of the tournament's favorites, they aren't afraid of the USWNT, either.
Lady Andrade is the embodiment of Colombia's DGAF attitude, young, stupidly talented—
—and sometimes stupidly hot-headed:
At all times, though, Andrade is fearless. Speaking to USA Today ahead of Monday's Round of 16 match against the USWNT, Andrade didn't hide the fact that she feels some kind of way about her team's huge underdog status:
"They belittle us. They think we're a team they're going to walk all over and it will be an easy game for them," Andrade said in an interview with USA TODAY Sports before leaning in to whisper her prediction:

"We're going to beat them since they like to talk so much."

Andrade has even predicted the outcome: In favor of Colombia by a score of either 2-1 or 1-0.
Her comments seem more directed towards the U.S. media, who've rightly noted that this match and the rest of the draw has been pretty favorable to the USWNT. Still, she's right to feel disrespected.
Oh, and what about the whole punching Abby Wambach in the eye during the Olympics in 2012 thing? Yeah, she's not too worried about any response:
"I hit her, what else I can say?" Andrade says with a laugh, not attempting to disguise the event from nearly three years ago. "If you look back at the video you'll see she hit me too, but we're Colombia so they don't want to review the whole episode."

Colombia lost that match 3-0, just as it lost 3-0 to the Americans at the last World Cup. Andrade will not be concerned about retribution when the teams line up at Commonwealth Stadium in Edmonton.

"There's no revenge, these are things that happen in a game. I have received some intimidating messages, but that only helps to reveal my character when we get on the field," the 24-year-old said. "This time we will play a very different game and that won't happen again, and so they don't ban me again."
Only time will tell if stoking the flames of what was always going to be a heated affair proves a sound strategy or not for Colombia, but we support the chutzpah in any case. If you're going to talk shit, do it before the match, not after.