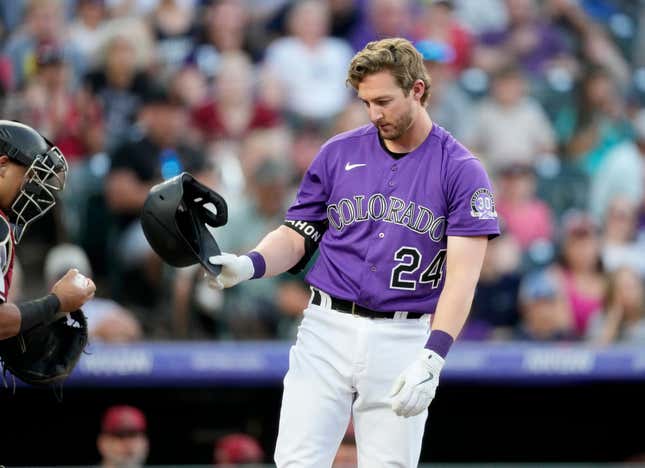 It's a baseball axiom that the Colorado Rockies are clueless, helpless, directionless. They don't have any stars, they don't have any prospects, and they don't have any idea how to get or produce either. Their ballpark presents a unique set of problems, but the Rockies are certainly not the organization that's going to figure out how to combat that. They've never won a division, and have won two playoff games in the 17 years since reaching the World Series. And one of those was the made-up coin-flip game. If it weren't for a gorgeous park and a fanbase that still enjoys going to it, the Rockies would probably be below the A's in terms of relevancy, except they wouldn't be actively killing it to prove a point like Oakland's ownership.
Is the new pitch clock good for baseball?
But do you know just how bad the Rockies have been this season? Sure, record-wise they're still ahead of the Royals and A's, but underneath the surface? You might not. And you might not believe it.
The entire Rockies lineup, that's any player that's taken an at-bat for them, has amounted to -2.2 fWAR. That's right, the entire everyday lineup is underwater. They're 6-WAR behind the A's, a team not even trying to do anything.
The Rockies could have sent out eight post-2015 Jason Heyward clones every day in every position and been better. They could have rolled out eight AAA lifers and been better off. They play in the most warped offensive park in the game, and don't have any regular who's been above average offensively, other than Randal Grichuk. He's an Angel now. It's Coors Field, where any jamoke should be able to run into a .400 slugging percentage or BABIP their way into a .280 batting average or something for a season. Something named Garrett Atkins slugged .556 here once. A clinically dead Justin Morneau slugged .496 in a season in Denver.
These Rockies couldn't do it. Who's been the worst? Jurickson Profar spends most nights drowning in Coors's gargantuan outfield, posting a -16.5 Defensive Runs Saved mark. He also can't hit, slugging .368 for a 75 wRC+. Kris Bryant, who somehow I still am upset the Cubs never extended, is a rumor. When he can make it on the field, and that's pretty rare these days as a new piece seems to fall off of him every month, is now devoid of power (.375 SLG), and can't really play right field either. Charlie Blackmon — ChuckNasty to his friends — is a mummy. Brenton Doyle has been given the everyday centerfield job, and he's been brilliant defensively, which is a rare achievement considering the national park amount of territory one has to cover in Denver. He's also hitting .194.
The Rockies' two best position players, in terms of WAR, are Ezequiel Tovar, who has an on-base percentage of .290. And Ryan McMahon, who has hit exactly average with a wRC+ of 99. They both catch the ball though. So that's the draw for the Rockies. Come to Coors and watch the left side of the infield get to every grounder. That's how you raise the next generation of Rox fans!
Sidenote: The Rockies are paying $195 million to field a lineup of crash test dummies. That's some ROI. For historical context, only one other team in the past 10 years has finished a season with its lineup posting a negative WAR. That was the 2019 Tigers, whom the Rockies have doubled up on the bad side of zero, -2.2 to -1.1 for those Tigers. And that Detroit team was at the start of a rebuild (a rebuild that admittedly didn't work but at least saw what they were trying to do). What are the Rockies trying to do?
Is there help on the way? Nope! Not next year at least. The Rockies don't have a prospect projected to be ready for Opening Day 2024, and most are a fair way off of that.
Even the A's can offer up Ryan Noda or the recent call-up of Zack Gelof. In Kansas City, you might see Bobby Witt Jr. hit an inside-the-park home run. The Rockies are serving up baseball gruel every day. It is a wasteland. It is a ship of the truly lost that only provides a story of ennui.
---
Follow Sam on Twitter @Felsgate and on Bluesky @felsgate.bsky.social