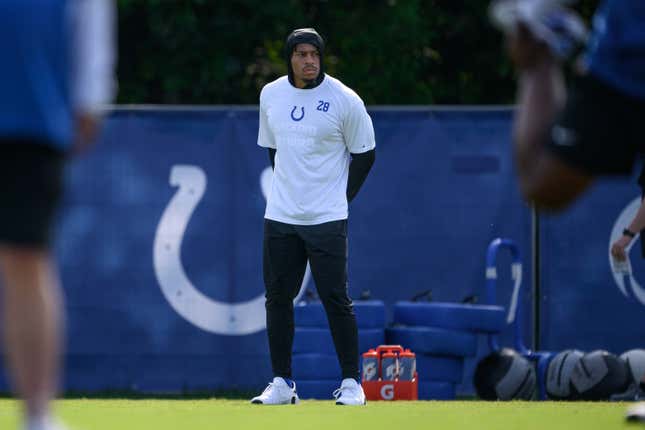 Jonathan Taylor is back at Indianapolis Colts training camp. He is still on the physically unable to perform (PUP) list and also his stance on remaining with the team has not changed. According to NFL Network's Ian Rapoport, Taylor still wants out of Indianapolis.
It's not the St. Elmo's shrimp cocktail or the Indy car series that Taylor is turning his nose up at. He reportedly has the same gripe as many NFL running backs. Taylor wants a multi-year extension with hefty guaranteed money and his team will not budge. He left training camp last week to independently rehab the ankle that bothered him throughout last season, and was arthroscopically repaired in January.
Just like Saquon Barkley, Taylor is clearly the best player on his team, and after this season the Colts will be able to use that same $10 million one-year franchise tag on Taylor. That tag is the lowest of any position in the NFL, outside of special teams players.
Unlike the New York Giants team ownership, Jim Irsay decided to further alienate his best player with a social media post at the beginning of training camp. Irsay discussed how the CBA was negotiated diligently and there should be no talk of a position group receiving anything outside of what was negotiated. Also, any agents offering such advice are doing so in bad faith.
This post was wholly unnecessary and made an already contentious situation worse. Irsay later claimed that the post was not directed at Taylor, whose agent shot back at him that he is the one operating in bad faith by not rewarding his best player.
Running back contracts have become such a hot topic that maybe it's time for Taylor to go full James Harden in his trade request. Taylor's a popular player, maybe he can get a private room at St. Elmo's and have someone record him saying bad things about Irsay and that he'll never play for him again.
NFL players don't have the same leverage
Then again, only in the NBA do players have enough power to throw their weight around to be able to get away with flagrant, repetitive, unprofessional behavior that affects the actual games. Barry Bonds had an over 1.000 OPS in 2007 and the San Francisco Giants deemed him to be more trouble than he was worth, a year and half after Game of Shadows was published. Bonds would never play in MLB again.
Colin Kaepernick had a better QBR than Eli Manning, Ryan Tannehill, and Cam Newton in 2016, despite the San Francisco 49ers spending 2014 and 2015 falling into disarray as an organization. His great crime was publicly protesting police brutality in the wake of the recorded police killings of Philando Castile and Alton Sterling. Kaepernick won the 49ers' most prestigious honor voted on by the players in 2016, and has not played a down in the NFL since the end of that season.
Taylor led the league in total yards from scrimmage in 2021 and tied for the lead in combined rushing and receiving touchdowns. If not for a late season meltdown by Carson Wentz, the Colts would have made the playoffs. It is reasonable for Taylor to brood and throw temper tantrums for the rest of the season, but it likely won't get him what he wants
Two years later, with a new head coach and rookie starting quarterback, one year after pulling Jeff Saturday off the ESPN set midway through the season to lead the team, it would make sense to keep some organizational stability and make life easier for the new guys by giving Taylor a new deal.
Lamar Jackson's trade request went away once he was able to receive a contract that he deemed proper. Making Taylor the highest paid running back in NFL history would likely make him more than willing to stay with the Colts.
However, that doesn't appear to be a road Irsay is willing to travel. Instead of starting this new day with the Colts properly, he has decided to hold the NFL line and wait for Taylor to put those pads on and collect his $4.3 million salary for the 2023 season.
A fate that Taylor can fight, but is hard to avoid.