You know how audience coordinators at "Quite Frankly With Stephen A. Smith" are always trolling Web message boards trying to get people to come to their shows? Well, now it's getting rather extreme.
Next Monday, Stephen A. will host embattled Cubs manager Dusty Baker. We have made fun of Baker many times and don't think he's a particularly talented strategist. But he has agreed to go on Smith's show and answer his questions. How is the show responding? By encouraging its audience to boo him. From outstanding Cubs blog Goat Riders Of The Apocalypse:
I was recently EMailed by an Assistant Associate Audience Producer for Quite Frankly with Stephen A. Smith. Apparently, our own Dusty Baker will be on the show on Monday, July 24th at 11:15am, and they want some loud, raucus Cub fans to be there to boo or cheer Dusty as they see fit. No, actually, they just want us to boo him. The AAAP said, and I quote, "You guys can definitely feel free to BOO Dusty if you so please."
We suppose that's one way to increase the dreadful ratings: Turn into Springer!
Quite Frankly With Stephen A. Smith [Goat Riders Of The Apocalypse]
Audience Panhandling At Quite Frankly [Deadspin]
G/O Media may get a commission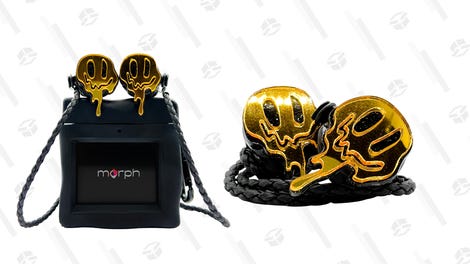 morph audio
Morph Earphones
(UPDATE: Apparently Bleed Cubbie Blue got the email too)