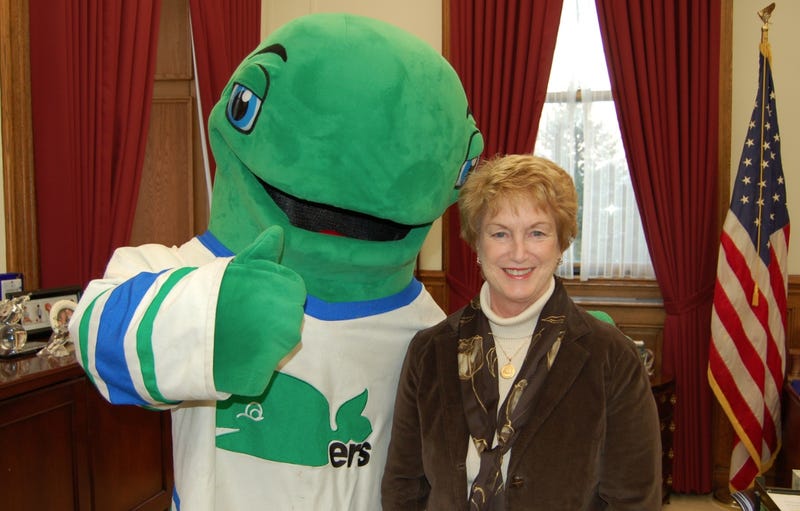 Kevin O'Connell got drunk and went to the Connecticut Whale minor-league hockey game on Jan. 28. When he got there, he tackled and punched team mascot Pucky the Whale, who was greeting child fans. In court a few days later, he said he did so because of a bet.
Well, a judge ordered the 28-year-old to publicly apologize via letter in the Hartford Courant newspaper by this upcoming Monday. But a Courant columnist said even that's not good enough to make up for O'Connell's defiling of decent society.
The team has invited O'Connell to have a center-ice apology session with Pucky, despite the fact that he's been banned from the building. His family, however, said they were worried about a vigilante fan exacting revenge. Writes Jeff Jacobs:
[Defense attorney Peter F.] Odlum even called back to say O'Connell had undergone shoulder surgery Friday and wasn't healthy enough to appear next Saturday, anyway. Hmm. When I called back looking for O'Connell's father to see about the shoulder and if Kevin had hurt it attacking Pucky, I got the answering machine and no return call.

[Judge Raymond] Norko further ordered O'Connell to read a book and write an essay on the situation. If he carries out the directive, O'Connell can have his breach of peace charges dropped.

Really, ask yourself this: What better essay could be written than the one of O'Connell, arm in a sling, manning up, handing Pucky a mammal-to-mammal apology and hugging it out? I get goosebumps just thinking about it.
Those aren't goosebumps.
Judge: Man Must Apologize For Attacking Pucky [Hartford Courant]
Makeup Calls For Burton, Mascot Attacker [Hartford Courant]
Conn. man charged with attacking hockey mascot 'Pucky' [Boston Herald]