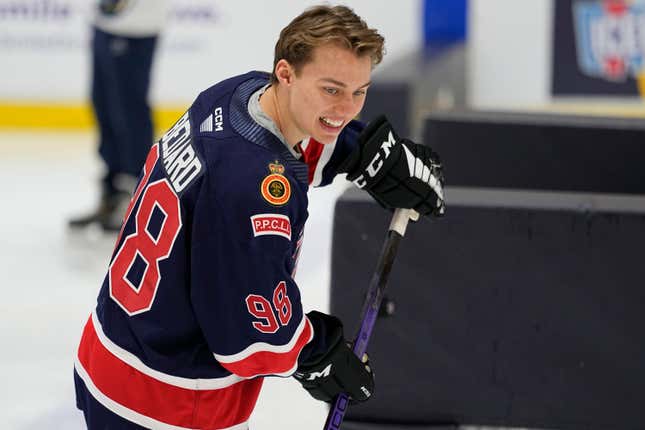 It's Connor Bedard Day. The long-sought-after Canadian is more popular than Justin Trudeau (although I'm not exactly sure how high of a bar that is these days) will be selected No. 1 overall by the Blackhawks during tonight's NHL Entry Draft. Any other move from Chicago with the top overall selection than to choose by far the best player available would be catastrophic. And it would be a pink-slip offense for the team's general manager, Kyle Davidson, to take anyone else, despite future all-stars existing elsewhere on the big board. It'd be worse than if the San Antonio Spurs didn't select 7-foot-5 Victor Wembanyama first overall in last week's NBA Draft. And those at The Alamo didn't miss the lay-up.
Is Connor Bedard or Victor Wembanyama more likely to bust? | Agree to Disagree
With Bedard soon to be employed in the Windy City, expectations will run wild in a post-Jonathan Toews, and Patrick Kane world that he's the wunderkind to lift another Stanley Cup inside United Center. The 'Hawks are an NHL blueblood as one of the original six and a trio of Stanley Cup wins since 2009. The league is more entertaining when one of its most recognizable franchises at large is good, something we haven't seen enough of from Chicago's fellow NHL inaugural colleague in Detroit. With those two pillars of the Blackhawks now in free agency and Manhattan respectively, Bedard will lace up his skates with a spotlight that'll be hard to juggle. The track record for No. 1 picks fulfilling what's expected of them is nearly a unanimous success. All the signs are positive for Bedard and now after he's drafted, it'll just take time to be the next great Chicagoan on ice.
With comparisons galore, especially to a fellow Connor who was just named the NHL's most valuable player, not setting Hall-of-Fame-or-bust standards for Bedard is necessary. Two decades ago as a rambunctious youngster, I remember when the Capitals won the first overall pick of the 2004 draft. It had a similar set-up to this year's extravaganza with one dominant star that had to go No. 1. Alex Ovechkin turned out to be the best thing that's ever happened to the Capitals if not the entire District of Columbia sports landscape. No Wizard, Mystic, Bullet, Hoya, Commander, Senator, Obama, Redskin, or National truly compares. Bedard should be great, but pump the brakes on making him the hockey equivalent of Abe Froman already.
The trajectory for Bedard doesn't have to deviate from soon-to-be-fellow-first-overall picks, however. And let's start with the elephant in the room of McDavid, the easiest comparison, not just by first name, or nationality. Despite McDavid's advantages in height, weight, and speed, Bedard was more productive on the ice at the World Juniors, and in the Canadian Hockey League. Bedard is more of McDavid and Sidney Crosby having a baby, minus the Penguin captains' incessant whining when things don't go his way. Even with the tears flowing from Pittsburgh into the Monongahela, Crosby is a no-doubt, first-ballot, unanimous Hall of Famer. McDavid is well on his way to the same standing. Bedard could be better than both and has all the tools to be. He just hasn't proven a damn thing with the lights on brightest, and how that affects someone who turns 18 in July can't be ignored. The wrong comparison would be to either Kane, the No. 1 pick in the 2007 draft, or Toews, who went No. 3 in 2006.
Drafted a year apart, Toews, and Kane led the charge for Chicago to its first Stanley Cup since 1961, but hadn't done that feat since 2015, the final of the trio of championships in six seasons. Just like every sort-of dynasty in sports, those players get older, and move on, like the Golden State Warriors are currently doing. Tonight will either be the watershed moment for the next round of Stanley Cups being filled with Al's Beef sandwiches or a more painful exile from the best trophy in sports. The easy part is picking Bedard, now it's a matter of how the Blackhawks develop him. My bet is he can't do it on his own. Drafting Bedard is the first move and can't be the only one.