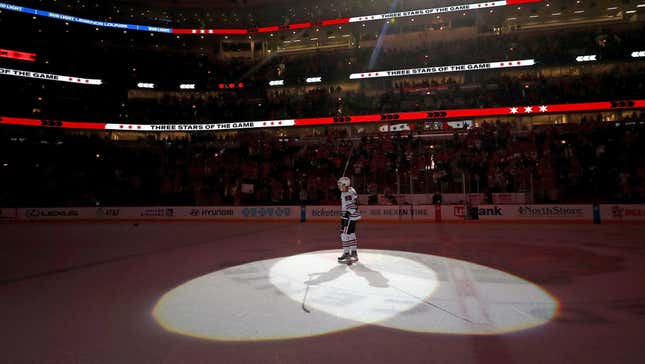 Everything just slowed down.

That was the first thing anyone noticed about Patrick Kane before the Hawks made him the No. 1 pick in 2007. If you saw him with the U.S. World Junior team, it was impossible to miss. He would get the puck, and suddenly all of his opponents were walki…er, skating on eggshells. Afraid that any misstep would open the smallest passing lane that looked like an expressway to Kane, or that he would dangle them into goo on his way to the net if they were even slightly off balance or out of position. Even at that age, it was clear that Kane possessed something that only a precious few get, that ability to simply bend the game to their whims.
Is Vince McMahon returning to WWE?
When the Hawks "Forrest Gump'd" their way into the No. 1 pick, there was some debate locally about what they should do with it. It's hilarious now to think that James van Riemsdyk and Kyle Turris were seriously considered worthy of the top selection by some, but that's how it was then. But most fans knew that Kane was the only choice. Anyone complaining about his size or somewhat a lack of burst clearly had never watched him play.
Even in his first game in the NHL, in Minnesota when neither he nor any other Hawk scored, he was still putting everyone else on half-speed while he weighed up his options. He just had as much time as he wanted, most every time he had the puck.
He dazzled that first season, winning the Calder Trophy. But even in that first year, the stories of his off-ice antics started to leak out. But they leaked out as they did back then before the Hawks had any serious coverage outside of the late Tim Sassone. They didn't even have a serious blog (I know, I started one of the first the next season). It was all on message boards and other dark corners of the internet or word of mouth. And it was handled as if it was just kind of adorable, accepted as what would happen if any teenager was allowed access to the entire scope of the Chicago nightlife as Kane was. How would any of us handle getting to drink for free at 19 in the hottest clubs and bars around town? It likely would have looked a lot like we heard Kane was looking like. Jovial but incoherent, a touch wild. He'll shake it all out eventually, we all said. It was all rumors and whispers anyway.
All of it only grew from there. Kane's game became more expansive, and instead of spectacular flashes here and there as in his rookie year he began to dominate whole games. As the Hawks became relevant and then preeminent, Kane was usually leading the charge. There's nothing hockey fans like more than watching star players see their production drop in the playoffs as proof of something, because only the playoffs matter, even though hockey is a weird game where it just doesn't always set up for the best to be the best at the most important time.
But Kane did. The bigger the game, you'd always see him. He was usually ending it. Most would say it was his hat trick in Game 6 in the second round against Vancouver that announced him as the game's leading big-moment guy. But those in the know will tell you it was the game before, in Vancouver, when he put all four Canucks skaters and Roberto Luongo into a trance so heavy they never saw Dave Bolland completely naked on the other side with an open net to score the winner:
His hat trick in the clincher showed the kind of sneer that Kane played with in the biggest moments, using the trash talk from Kevin Bieksa or Willie Mitchell as fuel for his I'll-fuckin-show-you style and persona.
That following summer was the cab driver incident. We all joked, but underneath that, we started to know something was wrong. Even at 19 or 20, who (allegedly) attacks a cab driver over 20 cents? While screaming, "Do you know who the fuck I am?" This had gone beyond just drunken teenage goofiness. But we all moved on, and more importantly, anyone actually around Kane moved on too. There was no one reining him in, especially those who were supposed to.
Because there were goals to score and Cups to win. And he and the Hawks did all of it. There were the killer goals against Vancouver again, the Cup-winner in Philly, the Showtime assist against Minnesota in 2013 or the series-clincher against the Kings, or the two goals in Game 5 against the Bruins or dragging an out-on-their-feet Hawks team to a Game 7 against the Kings in 2014 from 3-1 down and this list is only about a quarter complete.
The talk of Chicago
And the stories from outside the United Center continued to pour in, a lot of them documented on these very pages. You could walk into any two Chicago bars and at least one of them would have a Kane story, and 90 percent of them weren't good. It caused one deranged fool to write this. It didn't go unnoticed that when Kane went to Switzerland during the lockout, it was his mother who went with him. Someone had to mind the shop.
But the goals, the wins, the parades. Kane was as big of a reason as anyone that the Hawks, unknown and unloved in Chicago before, suddenly became the biggest party in town and the biggest story in hockey, and one of the biggest in sports. Suddenly games weren't just our little dungeon with 18,000 other psychos that you didn't see anywhere else. It was our coming out party as much as the team's, and we all soaked it in. I still remember a lot of those nights and games as the best time of my life. We never even dreamed of a stretch like that before under the ownership of Bill Wirtz, and then it was actually happening. It was fantasy. We were just as intoxicated as he was.
I felt the thud on Aug. 1, 2015, when news broke of police investigating Kane about a rape accusation. I still won't pretend to know what happened that night in Buffalo. What I do know, and what I knew then, was that if ever there was an athlete who didn't deserve any benefit of the doubt, it was Kane. He had been acting like the most entitled bro for nearly a decade already. He was King Dickhead, surrounded by a legion of dickheads.
But of course, that's not how it works in sports. Hawks fans rallied around him because he scored goals and he won Cups. He was the victim in all this. He was given a standing ovation at his first appearance at training camp. The Hawks announced a bobblehead night for him a day or two later. The opening press conference started with John McDonough listing all the team's accomplishments, the biggest no-no in PR management, as if that made it all OK. It was the first clue that the only things McDonough was good at as team president were taking credit for others' work and allegations of allowing a toxic work environment. 
Any dissenting voice was shouted down by an ocean of BarfStool hacks and fanboys and parents taking their kids to games, all adorned in No. 88 jerseys. Ask two of the employees here how bad it got.

Kane was never charged in the incident — the prosecutor said the evidence did not sufficiently substantiate the complainant's allegation she was raped — and Kane insisted he had done nothing wrong.
And all the joy was gone for some of us. As I've written about before, fandom is about feeling like you're part of something, a group however big or small pulling in the same direction. About finding like minds and shared emotions. That was all gone. We weren't part of this overgrown frat boy haven full of misplaced righteousness and entitlement.
Kane would go on to win the MVP the following season, which all the asshats used as proof of his excellence and far more depressingly his innocence, as if one had anything to do with the other. They knew what a turd Kane was. They just didn't care.
For some of us, the Hawks went from the biggest joy in our life to a source of bemusement or outright sickness. Maybe it wasn't Kane's fault, but the cult he created. But he certainly was nothing less than the symbol, the center. All those goals, all those moments, all those memories, not balanced or canceled out by that ugliness.
He's New York's problem now though he's been quiet off the ice in the years since.
His weirdo father can still drive to every home game from Buffalo, which is what they both really wanted. I'm sure Rangers fans mostly won't care, because he rounds out their top six to maybe the best in the league.
Patrick Kane in Chicago was everything good and bad. I never would have believed I would say this now back in 2013 or 14, but I and a host of others are delighted it's finally over.