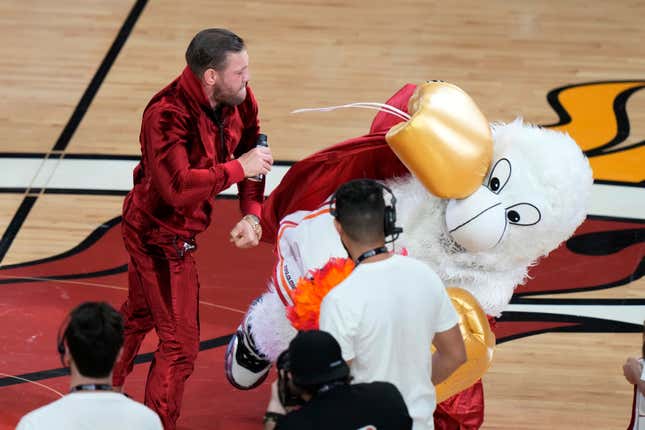 The Miami Heat took a double L in Game 4 of the NBA Finals against the Denver Nuggets. Denver hit 'em with a potential knockout blow, winning both games in Miami to take a 3-1 lead in the series. Adding insult to injury, Heat mascot "Burnie" got burned during halftime when he squared up at midcourt and took a staggering left hook from Conor McGregor that landed the mascot in the hospital.

Will Conor McGregor's next fight be the greatest comeback ever? | Agree to Disagree
If you're wondering why this was even scheduled as halftime entertainment, the bit was used to announce a new partnership between the Heat and TIDL Sport, a pain relief spray the UFC legend is peddling. This would be a great clip for a segment of "When halftime shows go wrong."
Not much went right for Miami Friday night. They lost by 13 points (108-95) and turned the ball over 14 times. They tried to go WWE with a scripted halftime fight involving a maniac that went off the rails and landed their mascot performer in the hospital. Most times, it's best to leave simulated fighting to the professionals.
Miami would have been much better off throwing Bernie Madoff out there against McGregor. Now, that's a halftime show folks would have been pumped about. It's just too bad Madoff is no longer with us. That's the type of guy that should be mangled by an extreme fighter. Of course, someone will probably find this offensive, but that's OK; it's the least of Madoff's worries at the moment.
UFC president Dana White was asked about the bit and added his expertise. Let's not forget that White was caught slap boxing with his wife on camera only a few months ago.
"I wouldn't have professional fighters punching me in the face if I was a mascot. Doesn't seem like the brightest thing in the world."

In case you're wondering, the performer inside the Heat's mascot saw a doctor, was given pain medication, and sent on his way. But it sounds like they'll be able to make a full recovery. American healthcare, get ya in, get ya out.