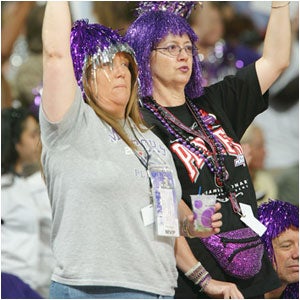 It's time to break out the glittered wigs and fanny packs ... the WNBA, or, as I like to call it, Diana Taurasi's secondary source of income, sees their 2007 season kick-off today. The Detroit Shock take on the Sacramento Monarchs at 3:30 on ABC today, which probably has nothing to do with why the WNBA is currently the lead item on ESPN.com.
I like the Detroit Shock to repeat as champions, because their coach is Bill Laimbeer, who doesn't allow girls on his team. Exploiting a loophole in the league's by-laws, Laimbeer has assembled a roster in Detroit that consists entirely of ill-tempered post-op transsexuals who play this beautiful game with an intensity and armpit hair that is rarely seen elsewhere in the league.
If you're looking for a more in-depth preview, you can go to ... actually, ESPN.com and WNBA.com might be your only options. My e-mail has not been flooded with WNBA previews from the blogosphere.
Rolling in Rubles [ESPN.com]
10 questions before the 11th season opens [ESPN]