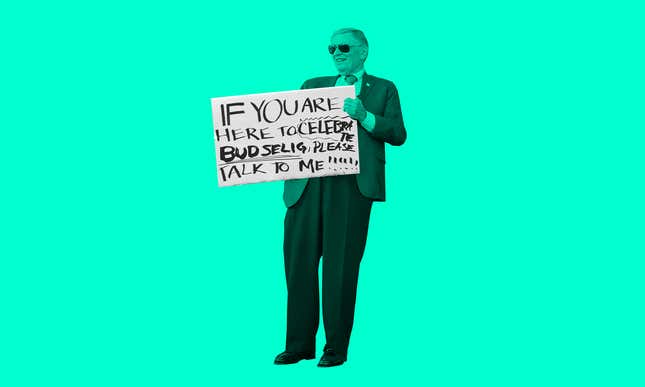 COOPERSTOWN, N.Y.—It was always going to be a losing proposition. I came here for Hall of Fame induction weekend with one question: Where are the Bud Selig fans?

Air Jordans are more American than McDonald's French fries | Deon Cole's Ultimate Sports Fantasy
Everything else aside, it was a bad year to try to find Bud's buddies. Put a zillion Expos and Astros fans in a small town and ask them to celebrate the commissioner who took one team away and moved the other from league to league, and the expected outcome would be a lot of boos.
I found very few people in Cooperstown there specifically to celebrate Selig. His induction by veteran committee is questionable enough, and on top of being massively unpopular for more than 20 years, you'd have to really sweeten the deal for someone to travel to the middle of nowhere in upstate New York to cheer on a team owner and commissioner instead of an baseball player—you know, someone who actually has fans.
But I wanted to know, if at least to attempt to prove a negative. Was there anyone, and if so, who were they?
---
The simple answer is that they were Brewers fans. They hold Selig as a local hero for bringing baseball back to Milwaukee; they said they appreciated his constant, casual presence around the city; they believed his hands were tied during the 1994 strike.

In two days of lazily searching—I had memorabilia and ice cream to buy too, damn it—I found a total of six Brewers fans willing to talk to me for this story. (They were three couples, so it's up to you if you want to see this as three or six Brewers fans located.)

Additionally, I found a Brewers fan wearing a light blue shirt with an enormous print of the Brewers' glove logo named Tim who told me he doesn't "like the limelight," and a dad and son who happened to be on a ballpark tour on the East Coast who had learned mid-trip that induction weekend would fall in the middle of it. I also approached another woman, roughly my age, wearing a hat with the glove logo, but her boyfriend, an Expos fan, told me she just liked the logo.
On Saturday, my approach had been just to bother people in Brewers gear. On Sunday, I decided I would get the Selig fans come to me. Hence, this terrible sign:
I got a lot of stares, a lot of chuckles, and a lot of Expos fans approaching me and frantically asking if I was there to celebrate Selig.
No, no, no! I told them. I was just wondering if there was anyone out there in this open field full of Canadians and Puerto Ricans and Texans. Please, I told them. I'd made fans with a lot of Expos fans this weekend, we are on the same team. I did not enjoy becoming a Cooperstown spectacle.
A lot of people who approached me were just curious about how many people I'd spoken with. Not many, I told them. Three couples in two days. That always got a laugh.
(To my great disappointment, no one noticed my San Francisco Seals hat.)
One of the true Bud fans, Ben Abrohams, flagged me down from across the street to talk about Selig. He and his wife were on their way to the induction ceremony; Abrohams was in a Brewers hat and shirt, and a nylon belt with baseballs printed around it. He told me he believes Selig "was the best commissioner in the history of baseball."
Abroham said that the 1994 strike wasn't Selig's fault, and that it served baseball's best interests anyway.
"At that point in time, the [Brewers'] general manager was Sal Bando, a retired player, and he said that the pendulum had swung so far in favor of the players, the salaries were escalating and baseball had to do something to make it more even-handed," Abroham told me. "The [strike] was regrettable, but it served his purpose, and they've had labor peace ever since. They have no salary cap, but they have the luxury tax that helps to equalize the league."
Abroham is a retired attorney from Wisconsin who told me he specialized in real estate. He also said he had represented MLB and the Brewers while practicing, but wasn't specific about it.
According to his firm's website, Abroham "represented Major League Baseball in connection with various matters, including the relocation of the Montreal Expos MLB team to Washington, D.C." Additionally, Abrohams "represented the Milwaukee Brewers Baseball Club in connection with the development of Miller Park."
If I had been aware that Abrohams had been instrumental in the relocation of the Expos, I would have asked very different questions.
The other Selig fans I found were not Selig's colleagues, as far as I know
Pat and Mike Casper visited Cooperstown from Oak Creek, Wisconsin, which they told me is 15 miles from the Brewers' stadium. They've been season ticket holders since 2006, and came to Cooperstown with a group organized by a baseball tour company.
Their reason for the trek was simple: "If it wasn't for Bud Selig, we wouldn't have baseball in Milwaukee," Mike said.
For the Caspers, Selig's presence in Milwaukee was a personal one.
"Years ago we used to bring out nephews and niece to County Stadium," Pat said. "After the game, Bud would always stop and sign for the kids, no matter what time it was. And that meant a lot to them."
They mentioned they still see Selig around when they are near the ballpark, often at Gilly's, a burger and custard spot Selig's been reported to frequent since at least 1997.
The Caspers told me Selig gets his order to go, grabs it from the counter, and sits in his Lexus in his parking lot to eat it. Seems awkward, but he is probably Milwaukee's most recognizable public figure.
Steve and Cindy from New Berlin, Wisc. (they declined to give their last names), flagged me down to discuss Selig's mixed record. They also brought up that he had brought the game back to Milwaukee, that he hangs around at Gilly's, and that he's still a popular presence in Milwaukee.
Steve understands why Selig's reputation outside of Milwaukee is rocky, but believes that "everything he did to improve the game far outweighed the things that could be seen as negative."
When it comes to the Expos, Steve and Cindy are of the opinion that Selig had to follow the owners' demands.
"Selig didn't want that team to leave," Steve said. "He hated any team up and going anywhere else. But with everything else in this life, it comes down to cash."
I guess it's no wonder Selig's still loved in his hometown. In Milwaukee, he didn't allow a steroid craze to get out of hand before attempting to retroactively demand morality and basically excommunicate some of the game's star players, the ones who had grown its popularity to new heights. The Brewers weren't contenders in 1994, the year of the lost World Series. As an owner, Selig didn't unilaterally decide that the Astros would go to Milwaukee for a pair of "home game" against the Cubs after Hurricane Ike that ultimately nudging them out of playoff contention. It wasn't as an owner that Selig declined to take action against his friends, the swindling Wilpon family, after nearly bankrupting the Mets thanks to their high-level involvement in the largest financial scam in American history.

And, fine, Selig's introduction of the second wild card made the playoffs more fun; he created Jackie Robinson day; MLBAM and its digital and statistical innovations were developed during his tenure.
But for all some Brewers fans might be concerned, Selig is merely and forever the man who brought baseball back. Beyond that, who really cares?
During two of my interviews with Selig fans, my subjects chastised the crowd for booing Selig during the parade down Main Street.
Cindy from New Berlin told me: "That's pretty disrespectful for an induction. This isn't a game."
Be respectful, was the gist. This was Selig's weekend, too.

---
It was, of course, not planned that Selig's weekend of glory would go head-to-head with Tim Raines's induction, though maybe it's fitting. Raines twisted in the wind on the ballot for the full 10 years, and will be joined probably next year in the Hall by Vlad Guerrero. And then, there will be no more Expos coming to Cooperstown.

At least the coincidence gave Expos fans a chance to express their still-simmering anger at Selig. And, maybe more importantly, to show up in numbers, still rocking those powder-blue jerseys with the best logo in baseball, and to show current Commissioner Rob Manfred that they were still dedicated to their team, dedicated to the sport, and that they wanted it back. They'll show up for games this time, the city is itching for their return. Bygones, for the most part, will be bygones.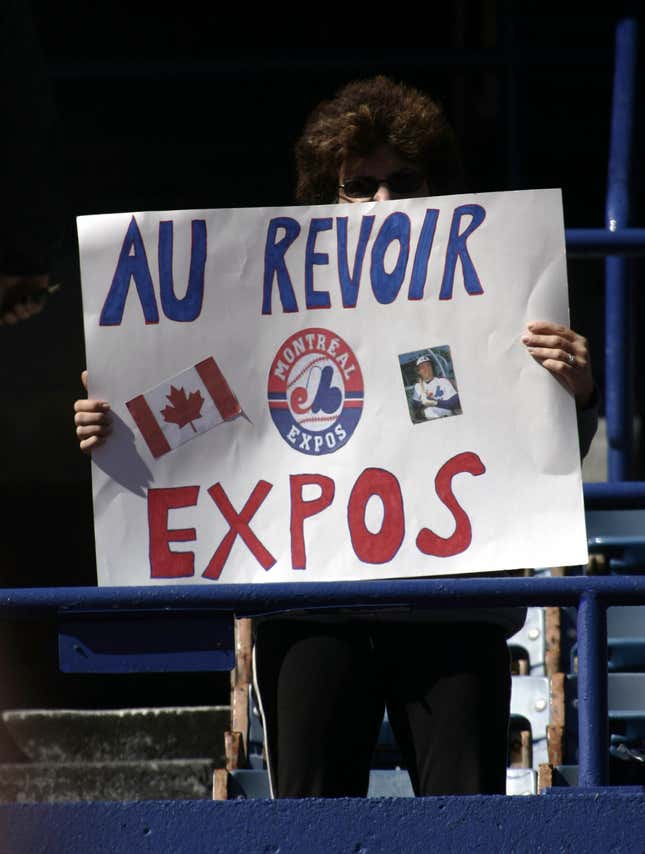 On Saturday night, Manfred saw a taste of the passion for a potential Expos return. He quietly popped up at Raines's induction party at Templeton Hall, a small one-room venue on a street behind the museum. Manfred slid in mostly without notice while Raines gave a lengthy speech, then headed back out into the cool night, walking past a crowd of children who definitely weren't alive when the Expos went to Washington. The kids wore Raines jerseys were waiting for him to come out and sign their baseball cards.
There's optimism that maybe Manfred, who has done very little to significantly change the game in his nearly three years at the helm (other than, maybe, juice the ball), can undo what Montrealers see as a grave injustice.

Selig, predictably, was booed when introduced on stage on Sunday afternoon. His plaque, at best, is misleading. At worst, it's revisionist. Of course, a Hall of Fame plaque is the exact place where a baseball person is insulated from the actions and that detracted from their case for induction—they made it, anyway, right?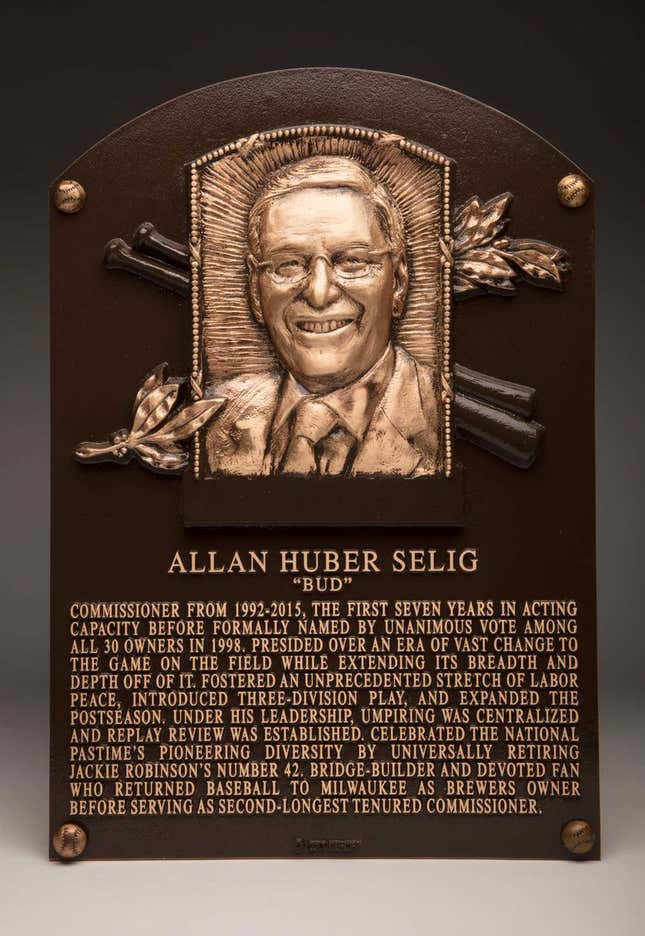 It depends, I suppose, where your priorities lie. If you are on the side of team owners becoming richer than God, then hell yeah, Selig's your guy. But if, say, your local access to baseball is restricted to watching the occasional exhibition game in your ancient stadium while the Rays struggle to attract fans in the middle of a playoff race, then, well, boo as loud as you want. It's your weekend, too, Expos fans, one of the last you'll get to celebrate together. For now.

Enjoy the Hall, Bud. You dusty old shyster.