Video has come out of a cop—a school resource officer, or SRO, tasked with performing law enforcement duties in an educational environment—attacking a student today at Spring Valley High School in Columbia, S.C. The footage is graphic.

The officer approaches the girl before putting his arm around her neck and slamming her backwards while she is still seated. Then he picks her up and throws her across the room, before pinning her to the floor and handcuffing her. Longer footage from different angles can be seen at WIS-TV.
Richland County sheriff Leon Lott has already spoken on the incident, telling WIS-TV, "The student was told she was under arrest for disturbing school and given instructions which she again refused. The video then shows the student resisting and being arrested by the SRO."
Why the student—who in available footage appears to be merely sitting at her desk—had to be thrown around her classroom by a much larger adult has yet to be explained.
Students at the school have reportedly identified the SRO as Senior Deputy Ben Fields, listed as one of two officers assigned to Spring Valley High School on Richland County SD's site.
G/O Media may get a commission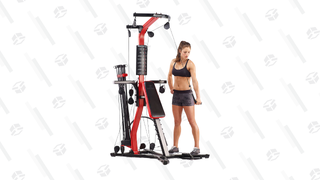 31% Off
Bowflex PR3000 Home Gym
"Parents are heartbroken as this is just another example of the intolerance that continues to be of issue in Richland School District Two particularly with families and children of color," the Richland Two Black Parents Association said in a statement. "As we have stated in the past, we stand ready to work in collaboration to address these horrible acts of violence and inequities among our children."
More updates as we have them.
[WIS-TV]