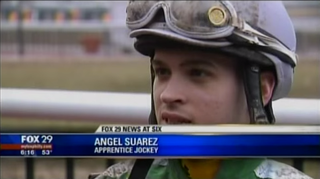 Police say a 21-year-old jockey allegedly masturbated on the deck of a second-floor apartment in Bensalem, Pa., broke in when a woman called 911, attacked two people in another apartment, and got shot in the chest.
Philly.com has the details of Angel Suarez's Sunday night, which started with Suarez allegedly climbing onto the deck of a second-floor apartment and jacking off. When a woman inside the apartment called for help and ran away, Suarez smashed her glass door:
As the woman ran to a neighbor's apartment, Suarez busted through her sliding glass door, fled outside again by diving out her second-floor bedroom window and then broke into another nearby apartment, where he assaulted two people, said Lt. William McVey of Bensalem Police.

One resident grabbed his legally registered gun and shot Suarez in the chest and abdomen. Even then, Suarez didn't stop struggling until police subdued him, McVey said.
Suarez is currently in an induced coma and requires several operations. No one knows why he went on his alleged masturbatory rampage, but Dave Yannuzzi, Suarez's agent, offered one explanation:
Yannuzzi said Suarez's girlfriend told him he was acting oddly and nursing a red drink when he briefly stopped home before setting off on his alleged crime spree.
Police say Suarez will be charged with assault, burglary, and more once his health improves.
Image via YouTube
H/t to Scott