In the aftermath of the Baylor sexual assault scandal, the closest thing to concrete information on the university's institutional failures came in the form of a 13-page, specificity-free summary of Pepper Hamilton's findings. Baylor has long insisted that's all the documentation that exists. A court petition filed Thursday may force the full investigation to the surface.
Thomas Hill, a former assistant athletic director for community relations and special projects at Baylor who worked for the university for 28 years, was fired in May in the wake of the summary's release. Hill filed a Rule 202 petition through his lawyer, Rogge Dunn, asking a Dallas County court to produce Pepper Hamilton's report to Baylor's Board of Regents. According to Dunn, Hill claims the dismissal occurred without due notice or explanation.
In addition to the Pepper Hamilton report, Hill also requested the court to compel the board of regents to allow Dunn to interview three current regents — chairman Ronald Murff, Mark Lovvron, and David Harper — about the circumstances surrounding Hill's dismissal. The petition posits Hill "did nothing wrong regarding the sexual assaults that occurred at Baylor."
There is no lawsuit yet, but according to the Texas Rules of Civil Procedure, a Rule 202 petition can only be made if "the petitioner anticipates the institution of a suit in which the petitioner may be a party;" or if "the petitioner seeks to investigate a potential claim by or against petitioner." Hill is investigating his termination and is not looking to press charges, according to his petition, but it's telling enough that he believes the threat of the release of the full Pepper Hamilton report serves as leverage.
G/O Media may get a commission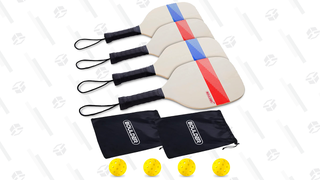 It's Pickleball
Pickleball Sets
The petition's filing was first reported by ESPN. Dunn provided both a statement and the petition, which can be read in full below, when reached Thursday afternoon via email.
I represent Thomas Hill, who used to be Associate Athletic Director for Community Relations and Special Projects at Baylor University.

Mr. Hill was a 28 year Athletic Department employee of Baylor University.

After the Pepper Hamilton law firm completed its investigation, Baylor summarily fired Mr. Hill without explanation or warning. In a rush to judgment, Baylor's Board of Regents made the decision to fire Mr. Hill without ever talking to him or getting his side of the story.

When Mr. Hill asked why he was being fired, a Baylor University official said "I'm not at liberty to discuss the reasons why the Board of Regents fired you."

This morning Mr. Hill filed the attached Rule 202 Petition that asks a Dallas County court to order Baylor to produce the Pepper Hamilton report and other documents and information pertaining to the investigation into Baylor's Athletic Department and why Mr. Hill was fired. Mr. Hill is also seeking the depositions of various members of Baylor's Board of Regents.

If the 202 legal pleading is successful, Baylor will have to produce documents; and, members of Baylor's Board of Regents will have to answer questions, under oath, regarding what Baylor knew and the investigation of the athletic scandal.
Baylor has not yet responded to our inquiry regarding Hill's petition; we will update the post if and when they get back to us.