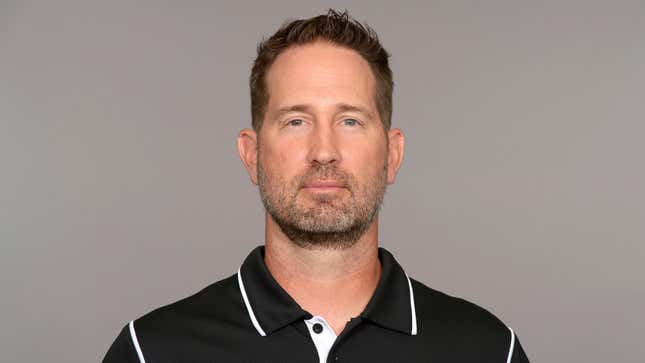 The Dallas Cowboys have a new offensive coordinator, and it's certainly a name that produces a "wow" response upon hearing it but not in a good way. Brian Schottenheimer has been named the new OC, taking over for Kellen Moore, who parted ways with the team and will call plays for the Chargers in 2023.
Terry Crews' favorite NFL players
This hire does absolutely nothing to move the needle in Big D, especially when the owner has a reputation for making "big splash" moves. Moving Schottenheimer into the OC role to help with game planning has to be the most uninspired coaching hire during this cycle. Schottenheimer spent last season in a consultant role for Dallas (whatever that means) and will essentially do the same thing since head coach Mike McCarthy will take over play-calling duties.
At 49 years of age and with over two decades of NFL coaching experience, Schottenheimer is the perfect candidate for McCarthy — a guy who won't threaten McCarthy's position within the organization.

Not quite following in dad's footsteps
Schottenheimer is the son of former Cleveland, Kansas City, Washington, and San Diego head coach Marty Schottenheimer, known infamously for the term "Marty ball." In a nutshell, that meant his teams focused heavily on running the ball, and the passing game was there to set up more running opportunities.
Marty was a successful head coach and one of the best of his era that never won a Super Bowl. On the other hand, Brian has never risen past the coordinator position and, at this point, likely doesn't care to. Indeed, if Brian wanted to be a head coach by now, he would've been, since he's been an assistant dating back to 1997 with the St. Louis Rams. We know how that nepotism thing works, especially in the NFL.
McCarthy deciding to move Schottenheimer into this spot and have Jerry Jones sign off on it is ludicrous. This hire lacks thought, innovation, and creativity, which isn't a good sign for next season. McCarthy's playcalling had become stale a few years ago at the end of his tenure in Green Bay with Aaron Rodgers. What's supposed to change years later with Dak Prescott running the show? The answer is not much. Still, this is where Jones wants to spend money.
The offseason is officially around the corner, and we'll see what the Cowboys do in free agency, but I can assure you it won't be overly impressive. Cowboys fans simply hope any of their signings are more notable than the new OC. Dallas has many questions to answer offensively in the backfield, the offensive line, and at wide receiver. The only guy that's safe in his position is Prescott, and that in itself is mind-boggling. Apparently, Super Bowl-capable quarterbacks don't grow on trees.