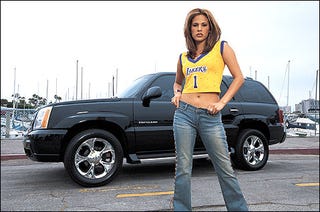 Nothing perks up our Friday like a good cheerleader catfight. Today, it's former Dallas Cowboys cheerleader/PETA supporter Bonnie Jill Laflin vs. Tennessee Titans cheerleader/rodent decapitator Melissa Hodges.
Remember our post on Hodges not too long ago? She's the Titans cheerleader who doubles as a molecular neuroscience researcher at Vanderbilt University, where among her duties, she says, is the occasional beheading of a rat for research. Laflin (pictured left), a staunch PETA supporter, read about this and was not amused. She fired off a letter to Hodges and Vanderbilt, which was detailed on the PETA site, and a portion of which follows:
I'm writing on behalf of my friends at People For the Ethical Treatment of Animals (PETA) and PETA's more than two million members. I am a former Dallas Cowboys cheerleader and a current scout for the NBA, but my great passion is animal protection. I was therefore extremely disappointed to read about your work in an animal laboratory at Vanderbilt University Kennedy Center. You may not be aware of the indifference that Vanderbilt University has shown in regard to following even the minimal standards required by federal regulations. Or that Vanderbilt has been cited for dozens of violations of the animal welfare act in the last three years.
You can read the entire letter here (PDF).
From The PETA Files:
It was discovered recently that Titans cheerleader Melissa Hodges is working in an animal laboratory at Vanderbilt University's Kennedy Center, and according to the Nashville Scene, Hodges guillotines rats, among other acts. So Laflin has penned a powerful letter to her fellow spirit squadder.

Laflin has graced PETA ad campaigns with her sexy (naked) body in support of vegetarian living and against rodeo cruelty. She also has a big place in her heart for the animals used (and abused) in experiments.

Hopefully, Hodges will be big enough to have a change of heart and take her career to a different, cruelty-free level. I mean, heck, when a woman like this tells you to jump, you just ask how high.
Say what you will about PETA; it knows marketing, and how sex sells. Its anti-rodeo campaign slogan: "Nobody Likes An Eight-Second Ride," featuring a nearly-naked Laflin lounging in hay, is a good example.
So, your move, Melissa. Not since the trailer fight scene Kill Bill II has a confrontation so caught my interest. "Bitch, you don't have a future!"
Cheerleader Gets An Earful On Animal Testing [The PETA Files]
PETA's Sexy 'Bank On Your Health, Go Vegetarian Ad' [The PETA Files]