We've already covered the new Cowboys Stadium's opulent luxury, from the $40 million scoreboard to the $60 pizzas. How about $75 seats where you can only see one-third of the playing field? Thank you, Jerry Jones for all your blessings!
GeekBrief.tv posted this longer video about the giant punt-blocking HDTV hanging over the field, but in the course of their visit they also discovered something special—the worst stadium seats imaginable. One is literally behind a cement column. The other sits up against a cement wall that obstructs all of the stadium except for one red zone. I'm not sure which exact seat this is, but there doesn't seem to be any indication on Ticketmaster that obstructed view seats are available or that they are any cheaper than the lowest listed price of $75. ($59 as part of a season ticket package.) The standing-room only morons get a better deal than that, but at least you get a chair.
How bad are these seats? You are in the same room with the world's largest video screen, a massive 160-by-90-foot egoriffic TV built specifically to give fans in the cheap seats a visual reminder that they are actually attending a football game ... and you can't even see that. Unless you've recently had your neck elongated, you are better off watching at home.
So when broadcasters are boasting every Sunday about the 100,000 maniacs feeding the Jerry Jones wishing machine, do you think they will mention the 35,000 (plus two!) fans who are paying money to not watch a football game with their own eyes? Please, sir, may we have some more?
Visiting the Largest HD Display in the World [GeekBrief.tv, via BobsBlitz]
Related: Cowboys' Massive New Stadium Not Big Enough To Play Football In
New Yankee Stadium Preserves Some Of That 1920s Charm
G/O Media may get a commission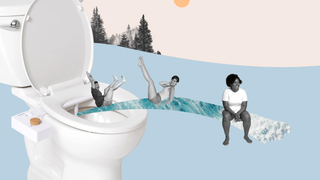 17% off
Tushy 3.0 Warm Water Spa Bidet Attachment