One man has spent years taking slow-motion videos of cheerleaders at college football games, and uploading them to YouTube. You dial 9-1, then click through to see just how bizarre this is, then dial 1 again.
Gossip Sports made quite the find when they discovered the YouTube account of one "juan833cheer." You know how, when going to or coming back from a commercial break, they'll often do a close-up of the cheerleaders? Yeah. Our guy records it all with his DirecTV, films it directly off his screen, and sets it to unsettling music.
So what do we know about Juan M. Melendez, from Union City, N.J.? Well, according to his YouTube profile, he hates CBS, hates people from Philadelphia, and hates anyone who dares call his videos creepy. And also, this:
I'm a major man who loves cheerleaders, if it's college cheerleaders I'm watching it.
Yeah. Someone call Benson and Stabler.
juan833cheer's channel [YouTube]
Attention College Cheerleaders: One man is watching you … over and over. [Gossip Sports]
G/O Media may get a commission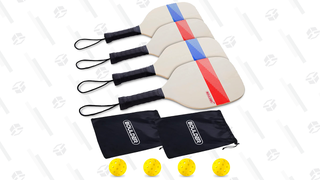 It's Pickleball
Pickleball Sets