Eventually, as the days become months and months become years after yesterday's Euro 2016 final, where Portugal bested France in extra time, no one will remember that it was the poorly played—though passionate—conclusion to a tournament that itself was stuffed with teams that played like our endearing though unlovable champions: more obsessed with clogging their opponents' attacks than with doing much on offense on their own. Narratives are often more memorable than individual moments, and especially in a final shorn of iconic displays, the powerful storylines at play will wash away the mundane specificities of what happened on the pitch.
Indeed, the narrative through lines of Portugal's win were so obvious coming into the game that you could've written 90 percent of the post-match and post-tournament recap articles beforehand. Finally, after the failure of a stream of Portuguese greats like Luís Figo and Deco and Pauleta and Ricardo Carvalho and Cristiano Ronaldo to bring their country that long-awaited major tournament trophy, this collection of young kids, with a few old heads sprinkled in, shocked the world and won the Euros. In a competition largely bereft of great coaching—and where the beneficial contributions of the few really good managers on hand (Italy's Antonio Conte, Wales's Chris Coleman, Germany's Jogi Löw) were immediately evident—it was Portugal boss Fernando Santos and his smart defense-and-counters tactics that won the day. While not quite of the same underdog status as the best stories of the summer, tiny Wales and Iceland making real runs in the tournament, Portugal nonetheless were nobody's favorites when things kicked off and yet they emerged as victors. The most prominent narrative, of course, being what the trophy would mean for Cristiano Ronaldo's legacy as one of the greatest soccer players ever.
You'd think that Ronaldo's knee injury that forced him to come out of the game 24 minutes in would've changed today's stories. Sure, if it had been a relatively quiet performance of the kind Ronaldo has put on for most of the Euros, with maybe a goal overshadowing the other, longer stretches on the game's periphery, you could still spin that into a tale of an individual's will making the decisive difference in the most important tournament of his life. But if he literally didn't play the vast majority of the game? Seems like it would've been hard to make the case for Ronaldo's centrality to a Portugal win.
G/O Media may get a commission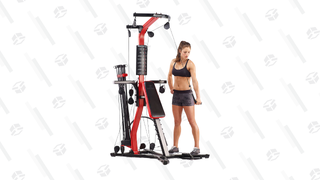 31% Off
Bowflex PR3000 Home Gym
And yet, that's exactly what's been happening, and for good reason. Ronaldo was the architect of the most indelible moments of the final, just not with his play. Rather, it was with his emotions and facial expressions and gestures and words that he motivated his teammates and captivated the audience.
The lasting image of the final will certainly be that of Ronaldo crying. His immediate response of pain to the collision with France's Dimitri Payet, and the tears he couldn't fight back as he sat there on the pitch, fearing that he'd have to leave the biggest game of his career before it even really got started, had to melt the hearts of even the staunchest Ronaldo detractors (e.g., me). Say what you want about his well-earned reputation of being a cold, petulant narcissist, there's no arguing the fact that he truly cares about all this:
Though Ronaldo couldn't be his team's savior between the lines of play after coming out of the game, he returned pitchside and became something like Portugal's assistant manager and master motivator. He spent most of the rest of the game stalking the sidelines right behind the team's ostensible manager, barking instructions at the players, imbuing them with some of his own trademark focus and passion with the power of his voice, the conviction on his face, and the wild swinging of his arms:
He really lived and died with every play:
At halftime, down their captain and best player, and still scoreless against a superior opponent playing in front of their home fans, Ronaldo again took the opportunity to make his presence felt. Portugal defender Cedric Soares said Ronaldo gave a speech in the locker room during the interval that transformed the team's mindset. From ESPN FC:
"It was a very tough moment," Soares said. "I remember, for me and the team, everybody was a little bit in shock I think.

"In half-time, Cristiano had fantastic words for us. He gave us a lot of confidence and said 'listen people, I'm sure we will win, so stay together and fight for it.'

"It was really unbelievable. I think all the team had a fantastic attitude. And we showed tonight when you fight as one you are much much stronger."
(We're inclined to give Soares the benefit of the doubt here. Ronaldo's words were probably more inspiring than a simple statement of "Guys, you're totally going to Do It!" and the defender most likely just didn't want to get into the specifics of the rousing pep talk.)
As intense and emotionally volatile as Ronaldo was, when Eder—who later recounted that it was Ronaldo who instilled confidence in him by promising that Eder would be the one to score the winner—finally did get the breakthrough goal in extra time, Ronaldo was too overwhelmed to do much more than stand alone and cry some more:
When it was all over, Ronaldo was still overcome by his emotions, oscillating between weeping tears of joy and howling in happiness in about equal measure:
(And lest you think Cristiano's a big softy for crying so much, he made sure to remind everyone that he's anything but soft when he ran around with his shirt off for a good while for no real reason):
For as amazing a career as Ronaldo has had, for as many goals he's scored and trophies he's won, there still hadn't been a single moment your mind instantly snapped to when you heard his name. In that way his career has sort of been like Kobe Bryant's, with both men being so outrageously good and successful for so damn long that it's only by looking at the full accretion of their stats and championships or recalling the general form of their archetypical moves—for Ronaldo, him standing over a dead ball, legs splayed, pressing out a big gust of air from his lungs, before smacking a free kick; for Kobe, a couple pump fakes, a swivel, and a fall-away shot on that flat arc that swishes through the net as the buzzer sounds—that you perceive their greatness.
While we still don't have a singular play of Ronaldo's to remember him by, the image of him crying on the pitch after his injury, and all of the disappointment and anguish and commitment it implies—and knowing the eventual outcome—is a fine symbol to represent such a complex figure. If Portugal won Euro 2016, we were always going to remember it as the Ronaldo tournament. It didn't happen as anyone could've foreseen, but for all ways he influenced the game and our memories of it, it won't be all that inaccurate when history attributes Portugal's success primarily to him.