Dragan Bender, a 17-year-old Croatian basketball star who could be a top pick in the NBA draft one day, left the Croatian national team and the FIBAU19 tournament at the end of June over a sneaker dispute between Jordan and adidas.
Sports Illustrated's Luke Winn detailed this latest chapter of the sneaker wars all the way from Greece:
According to Vlado Vanjak, a Croatian basketball official, either three or four years ago, Bender and his parents signed a contract with the national program that said he would adhere to federation rules, including its apparel contracts.
In 2014, the Croatian national team entered into an 11-year apparel deal with Jordan, the shoe company's first such deal with an international team. This quickly became a conflict for Bender, who is such a big star internationally, he was already fielding shoe offers of his own:
According to [Bender's agent Maurizio] Balducci, Bender signed an exclusive endorsement deal in September 2013 to wear adidas sneakers.

G/O Media may get a commission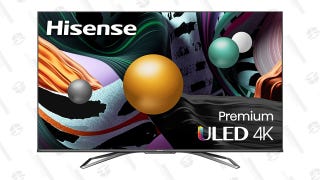 Save $350
Hisense ULED 65" Android 4K HDR Smart TV
Bender would wear his adidas sneakers in the lead-up to the FIBA U19 tournament, but when the Croatian team arrived in Crete for the U19s, the Croatian federation demanded Bender switch back to Jordans:
Bender, in consultation with Balducci, did not give in to the federation. And the federation did not give in to him. Thus, when they played their first game on June 27, he was off the team. "We know we would be a better team with Bender," Vanjak said, "but the contract is the contract."
The irony here, of course, is that Jordan-brand owner Michael Jordan faced a similar problem as a member of the Dream Team during the 1992 Olympics, when the country's Reebok sponsorship clashed with Jordan's Nike deal.
Winn does a great job of detailing Bender's whole affair—explaining why other players with their own shoe deals can afford to make the switch to Jordan for the tournament, how upset Bender is over not playing and the overall ridiculousness of the situation. It's certainly worth a read over at SI.
Photo via Getty