As a rule, small countries do not play in the World Cup final. Only 13 countries on earth have ever even made the final, and aside from one of Sunday's participants, only big countries have played for the cup in the modern era. It's been over 50 years since there was a final that didn't feature one of Brazil, Germany, Argentina, Italy, Spain, Netherlands, or France. Even then, it's not like England, who won in '66, is some scrappy underdog nation. You may have heard that tiny Uruguay won two World Cups, but while that is indeed both remarkable and true, the tournaments of 1930 and 1950 were so different from the modern World Cup as to defy any meaningful comparison.
Underdogs have made long runs before—South Korea in 2002, Croatia in 1998, Bulgaria in 1994—but none of them have been able to outmuscle the sorts of established soccer powers that always make the semifinals. The World Cup is not the NCAA Tournament, where little Cinderella teams can make the Final Four with some luck and hot shooting. All of which is to say that Croatia's run to and eventual 4-2 loss in Sunday's World Cup final is really and truly a modern soccer miracle.
Croatia may have had an easier than average run to the final after landing on a historically weak side of the bracket, but they absolutely belonged on the field yesterday, and may have even been the better team for the majority of the game. Two fluky French goals in the first half—one on a free kick that Antoine Griezmann conjured off a dive and another on a VAR penalty—forced Croatia to go straight for France's throat, and they were all too happy to control the flow of the game in doing so.
N'Golo Kante and Paul Pogba seemed like the perfect antidote to Croatia's all-action midfield trio of Luka Modrić, Iván Rakitić, and Marcelo Brozović, but instead they mostly got run. Kante was so bad that he was subbed off early, and Pogba didn't seem to do anything until the second half. There's a certain relentlessness that this Croatia side have played with all tournament, and for all the concerns about their dearth of legit multidimensional goalscorers—or whether letting Ante Rebić haphazardly smash crosses into the box 200 times per game is a smart use of the team's talent—they still created enough dangerous chances in every game that nobody can credibly call them frauds.
Croatia are not classically pretty like Brazil, of course. Few teams are, and one of the dirty little secrets that the World Cup exposes is that international soccer is frequently a messy game defined more by its errors than by transcendent moments of pure genius. Croatia put teams in position to make mistakes, and then they pounced on them more ruthlessly than any team in the World Cup. If that doesn't seem like a process worth believing in, then you're probably watching the game the wrong way.
G/O Media may get a commission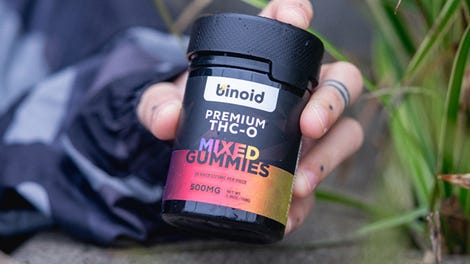 25% Off + Free Shipping
Binoid THC-O Gummies
Croatia's knockout round started out horribly, as they conceded an inexplicable goal on a long throw to Denmark in the first minute of play. They equalized quickly, thus establishing a pattern of play that would repeat itself in subsequent games against Russia and England. Croatia would concede, only to play better once they were knocked on their heels. Every team they played in the knockout rounds held a lead at one point, and every team conceded an equalizer. The final 75 minutes of the England game showed Croatia at their swarming best, and the midfield's inescapable pressure smothered England into submission even before Croatia's forwards outworked their defenders for a pair of goals. England couldn't complete a forward pass in the second half and extra time, while Croatia hounded them for the ball and made England defend all manner of diagonal balls into the box. Inevitably, they wilted.
It might be tempting to write off their penalty kick shootout wins over Denmark and Russia as lucky, but as England manager Gareth Southgate stressed to his team over and over again before their historic shootout win over Colombia, a shootout is not a lottery. Danijel Subašić did not just get lucky when he turned in two heroic goalkeeping performances.
Losing 4-2 to France in the most important game in the nation's history is not going to feel any better for Croatian fans and players just because they made a historic run to the final. Still, though, they can and should leave Russia with their heads held high. In a World Cup defined by the outright fraudulence of so many of the world's greatest teams, Croatia delivered, for the first time as a group on the international stage, by fully inhabiting their potential and embracing what they did best. Luka Modrić and Mario Mandžukić will be 36 when the World Cup travels to Qatar in four years, and this golden generation of Croatian stars may not ever reach these heights again. If that's the case, so be it. It's still higher than any country like Croatia has ever been before.