Because no one reads the newspaper, and SportsCenter's anchors are too perky for this early in the morning, Deadspin combs the best of the broadsheets and internets to bring you everything you need to know to start your day.
• Alex Reid and Katie Price's love was supposed to last forever, like all fighter/model relationships do. They only made it 11 months, though. Reports the Daily Star ...
The cross-dressing cage fighter, 35, has handed back the collection of designer frocks that Kate bought him for alter-ego Roxanne. And Alex has told the model: "I never even wanted Roxy to come out."
It seems as if Alex and Roxanne are pulling squatters' rights. [Metro.co.uk] (H/T Tomuban)
• Since there are apparently no other criminal investigations worthy of dedicating resources and manpower, the FBI has joined the search for the puck with which the Chicago Blackhawks won the Stanley Cup. [Chicago Tribune]
G/O Media may get a commission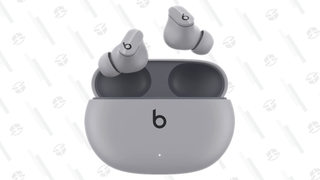 • Kim Clijsters beat Li Na in the Australian Open finals. Li Na was gracious in defeat. [SkySports]
• During the first quarter of the Lakers/Kings game last night, Kobe Bryant passed Hakeem Olajuwon for 8th on the all-time NBA scoring list. In the third quarter, his side was down by 20 en route to a loss in which "the Kings did pretty much as they pleased." [San Bernardino Sun] Speaking of the Lakers, remember the "Here's Your Map To The Stars' Lakers Seats" post from the other day? Caroline with The Daily Truffle declared Sourcing Shenanigans on The Hollywood Reporter. This, because TDT had its own seating chart in October. [The Daily Truffle]
• Per Entertainment Weekly's website, "ESPN talk show host Colin Cowherd has inspired a comedyproject at CBS! The network has ordered a pilot that focuses his life and work as an outspoken sports talk show host." An actor who pretends to be a boxer and gets everybody to play along that he did a great job is reportedly a producer. [Inside TV]
• Yankees President Randy Levine says Rangers owner Chuck Greenberg is "delusional" and that he should worry about keeping his team off welfare. Greenberg declined to respond. Cliff Lee watches from Philadelphia and laughs. [New York Daily News]
• On account of "losses and litigation" resulting from Bernie Madoff's Ponzi scheme, the Wilpon family is considering selling a minority stake in the Mets. Jeff Francoeur watches from Kansas City and laughs. [ESPN]
• And, finally, from the "Hickey's Biased" coverage files … That missing Stanley Cup puck story up top? They can't find it because it never went in. Fact.
And, here's an intriguing "crime" story out of New Mexico:
A woman said an Albuquerque grocery store employee offered her a sample of yogurt that may have actually been bodily fluid, according to police. [KOAT] (H/T Creepy Old Man)
****
Good morning. Let's have some fun.