As you've probably heard by now, this week marks the 10-year anniversary of Lionel Messi's first official appearance with the Barcelona first team. The soccer world has come together to celebrate this feat, remarkable for all the obvious reasons—the goals, the passes, the dribbles, the trophies—and for the more subtle, like the uniqueness of a modern-day homegrown player emerging from the youth ranks and thriving with one team for so long.
Yes, a large part of the celebration has focused on Messi's importance on the pitch—as it should be. But what hasn't gone as heralded is what Leo has meant to Barcelona in a larger sense. Lionel Messi, to paraphrase the club's motto, is more than a player. He's not only Barça's greatest ever player—he's also their most important.
Now, we must make sure to emphasize the player aspect here. If we're talking about the Catalan club's most important figures on and off the pitch, you might start thinking about people who've excelled pulling on the blaugrana shirt while later helping those who would fill their kits from the sidelines. In that sense, names like Andoni Zubizarreta and Pep Guardiola might come to mind, before you realize that, oh yeah, Johan Cruyff had more than a little influence on the team first as a player, later as a manager.
Nonetheless, Messi's playing career has been more critical to the club's fortunes than any of their prior greats. It's sometimes difficult to remember, but Barcelona historically are not the Barcelona we know today. They have been rich for a long time, and they have had intermittent fits of success, but they've never before been the juggernaut they are today.
It's not that Barcelona previously weren't good, or even regularly competitive with the rest of Europe's elite; it's that they were still far—like miles, maybe even lightyears—behind Spain's true superpower, Real Madrid. We've touched on how and why that was the case during the Franco era, but even in more modern times, Real Madrid have run Spanish soccer. A little proof: Barcelona have finished second-place in La Liga more than any other club in the country. Relatedly, Real have won the league 32 times to Barcelona's 22. And six of those titles—more than a quarter of Barça's league haul in their 114-year history—have come in the Messi decade.
G/O Media may get a commission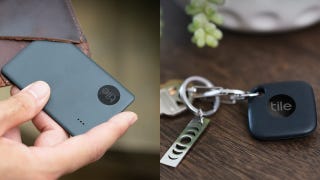 Up to 35% off
Tile Item Trackers
It's funny how indebted Barcelona are to their greatest-ever figure for creating the circumstances that produced their greatest-ever player. Cruyff choosing Barcelona—a club that hadn't won its own league in 13 years—in the summer of 1973 rather than walking into the starting lineup and guaranteed trophies with their rivals in Madrid (or any other club in the world, for that matter) was a seminal moment with transformative effects both during his playing career and after.
The Dutchman was the best player in the world when he made the switch from his boyhood club, Ajax, to Barcelona. This made him by far the best player Barcelona had managed to snap up in a long time. Around that time in its history, Barça's primary strategy of talent-building involved bringing in good players who had proven themselves elsewhere in La Liga. On the backs of guys like Carles Rexach, Marcial Pina, and José Antonio Zaldúa, the late '60s-early '70s Barcelona teams were very good, but without that extra little bit of quality to make them great.
Cruyff changed everything. His transfer was the world's costliest ever at the time, evidence that Barcelona was finally going for it all. Together again with his old Ajax manager Rinuus Michels, Cruyff was again the crown jewel of Total Football, a Dutch creation most famously wielded at Ajax by Michels himself. Its tenets were constant movement and positional switching between all players, from center backs to center forwards. The team was supposed to maintain a broad tactical shape, but with all 10 outfield players drifting into any and every other location on the pitch, requiring another player to cover for him, requiring yet another to cover for the coverer, etc. This was meant to confuse defenses who couldn't mark just one player, lest they find their own defensive shape mangled to pieces tracking a striker's wide run while a midfielder burst into the vacated space.
At Ajax under Michels and later Stefan Kovacs, and again with the former at Barcelona, Cruyff was the fulcrum of everything the system tried to do. Cruyff was nominally a striker, but his range of motion and interplay—starting centrally, coming wide, dropping deep—made any traditional positional designation inadequate as a descriptor of his play. He was primarily a playmaker, most destructive when dribbling past defenders and finding the runs of teammates in position to score. He was also a deadly finisher, especially in his Ajax days. But it was Cruyff's other-worldly dribbling that endures even to this day.
At Barcelona, the two lead Dutchmen rode Michels's fluid, attacking style and the unpredictable movement and brilliant passing of the world's best player to their first La Liga title in 14 years in Cruyff's first season. Cruyff won the Ballon d'Or as a blaugrana in 1973 and 1974.
While the team wasn't able to sustain the level of greatness they reached in Cruyff's first season—they wouldn't win the league again until the 1984-85 season, long after Cruyff had left—the Dutchman still brought the attention and admiration of the world to the club.
After Cruyff's tenure as a player, Barcelona retained the ambition to bring in the world's best players, often foreign, to couple them with the side's Spanish core. In 1982, the club again broke the world's transfer record when they purchased the rights to a much-hyped young Argentine playmaker: Diego Maradona. Players like Ronald Koeman, Hristo Stoichkov, Romário, Ronaldo, Rivaldo, Patrick Kluivert—the list goes on—followed in Cruyff's footsteps as high-profile, big-money foreign signings.
Many of those listed above were brought in under Cruyff's own guidance during his time as Barça's manager from 1988-1996, the longest tenure of any Barça boss. As coach, he further honed the possession, constant movement, and intricate passing he had made famous as a player. His time as manager brought the club more success than his playing days, headlined by four La Liga titles, one European cup, one Cup Winners' Cup, and a Copa del Rey.
That stylistic philosophy still guides the club to this day. Pep Guardiola, the man whose own soccer philosophy transformed the club during his spell as manager, and a former Cruyff player, has said, "Throughout my career I've simply tried to instill what I learned from Johan Cruyff. He has had the biggest influence on football out of anyone in the world, first as a player and then as a coach." While Dutch managers like Louis van Gaal and Frank Rijkaard, explicit disciples of Cruyff, had spells at the helm of Barcelona to much success, Guardiola is primarily credited with returning the club to its Total Football roots, with a couple modernizing tweaks. Pep retained the positional fluidity, the tactical discipline, and the emphasis on short, accurate passes, but added the intense and immediate defensive pressing he'd learned from watching managers like Marcelo Bielsa. Regardless of who deserves ultimate credit for the Barça teams from 2008-2012, the playing style that facilitated it ultimately flows from Cruyff.
Just as critical to what has made Barça what it is today was Cruyff's staunch support of homegrown talent. In fact, the club's now-famous youth academy La Masia was started at his behest while he was still a player. Cruyff proposed the idea of La Masia as a place to house the team's youth players, similar to the Ajax academy that cultivated his talent as a youth. Then-club president Josep Núñez agreed.
The opening of La Masia was the start of a renewed focus on youth development, something Cruyff took advantage of as manager of the club. Along with those foreign superstars, Cruyff relied on players like Guardiola, Guillermo Amor, and Albert Ferrer, players who had been drilled in Cruyff's and Barcelona's system since their adolescence. Here's a teenaged Guardiola in the 1988-89 La Masia yearbook picture.
If it's not yet obvious, everything laid out above should bring to mind just how much of a Cruyff—and thus a quintessentially Barcelona—product Lionel Messi is. The club has dedicated itself on finding the best talent in the world, no matter where it originates; Messi is a fiercely proud Argentine. The club believes in noticing young talent, bringing it to its academy, and nurturing it until it reaches its full potential in their colors, not elsewhere; Messi went from exciting though expensive (Barcelona was the one club of all of the young Messi's suitors willing to pay for the growth hormone therapy he needed) 13-year-old prospect and turned into Lionel Fucking Messi, one club man. The club is dogmatically married to the idea that method comes before results, and the one true method for success on the pitch is attacking, possession soccer; Messi is pretty much the definition of attacking versatility, starting his career as a playmaking right winger, eventually moving centrally and evolving into maybe the greatest goalscorer of all time, all while incessantly dropping deep and pushing forward and flaring wide, always in search of the ball so as to swish out one of his uncannily precise passes, or to take the thing himself down the length of the pitch, through as many defenders as can keep up, and into the back of the net—or put another way, a modern-day Cruyff, with ultimate freedom to express his attacking talents wherever they lead.
Messi's importance to his club is as much a matter of timing as talent. On talent alone he's definitely the finest player to play for Barcelona, but the era in which he's played puts him over the top. For the first time in the club's history, Barcelona seamlessly transitioned from one world-beating superstar—Ronaldinho, whose own decision to join the then-struggling Catalans remains the closest analogue to Cruyff's decision 30 years prior—to the next, maintaining an unfamiliar level of greatness.
It was also fortuitous that he emerged as the planet's best player on the planet's best team, most of the principles of which had also been forged in La Masia's smelter, in this particular window of massive television contracts, worldwide broadcasts, and truly international fame. All of that combined to make Messi rich and famous beyond anything imaginable in Cruyff's day, and made Barcelona even more rich and famous, most likely cementing their status as one of the handful of world megaclubs for the foreseeable future.
In a time of almost yearly roster upheaval, with players kissing the badge of one shirt while six months later getting shipped across the country to another club and repeating the gesture, Barcelona stand apart as an anachronistically consistent roster overflowing with great players, many of which have all played together back when their moms still cut their hair. Because of that commitment to incorporating youth, the club has first crack at pretty much every "Next Messi" in the world, with a killer sales pitch lead by being the only shop with the real Messi's mold on the shelf and a track record of using its talent as it emerges.
Without Messi's brilliance, which has been so rightly lauded because of this anniversary, Barcelona would probably look more like the good, at times great, rarely transcendent side of most of their history. But this was no fluke. Messi's emergence—the plane ride taking him from Rosario to Les Corts; the unending rondos in training with Cadete B; the emphasis on the pass as well as the shot, the run into midfield as well as the one into the box; his promotion and quick integration into an already elite team; the false 9 position and the tiki-taka system he made work—was a Barcelona creation through and through.
Top image via Getty
Pep Guardiola image via AP