It can be a little dubious when professional athletes making literal millions complain about being treated unfairly. But within the highly skewed relative universe of superstar signing bonuses, international baseball amateurs have a distinctly viable grievance.

In September, the Astros signed 20-year-old Cuban southpaw Cionel Perez for $5.15 million. The deal was going to cost his future team literally twice that since Houston owe a 100-percent luxury tax on any international signings after handily blowing their 2016-2017 pool limit. But the deal never went through, as the contract was voided by the Astros following Perez's physical, which reportedly revealed issues with his left elbow. Then last week, a new deal was struck, this time paying Perez $2 million. The Astros came away with a nice chunk of savings, and Perez came away feeling cheated.
According to Baseball America, Perez sent a letter to Major League Baseball and MLB Players Association expressing his frustration with the process,"I am happy to begin my professional career but I feel abused by this system." It reads in part:

"I hope that you understand how these rules in my case are extremely unjust and that you make every effort for the necessary adjustments and considerations to be made," Perez wrote in his letter. "Today should be the happiest day of my life, and I cannot help but feel like I've just been robbed."
The particulars of why and how Perez feels mistreated are largely esoteric functions of contract legalese. But basically: he is simultaneously being treated as a player who has and has not signed before, which complicates the existing restrictions of international free agency.
Under baseball's current CBA, an international free agent loses his amateur status—the thing that puts massive limitations on his earning power—if he meets various conditions, one of those being "previously contracted with a Major or Minor League Club." Perez is arguing that the original $5.15 million deal that was voided meets that requirement, and he should thus be allowed to seek a contract on the free-agent market that is not capped by the CBA. In his letter, Perez claims that he could get a $10 million deal from the Orioles right now were it not for his amateur status. It makes sense that MLB doesn't want to inadvertently incentivize players to fail a physical or lie about their identity in an effort to circumvent the signing bonus cap—but in doing so they recognize that the current rules would motivate a player to look for such a loophole.
G/O Media may get a commission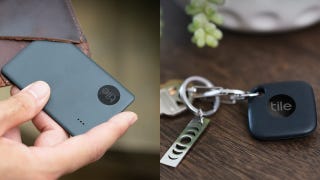 Up to 35% off
Tile Item Trackers
In any case, Perez is being treated as a professional when it comes to the Rule 5 draft. The Astros have to put Perez on the 40-man roster because the CBA states that any player who re-signs with a team that previously voided his contract will be entered into the Rule 5 draft unless he is put on the 40-man roster. This feature of the Rule 5 draft is specifically intended to protect players from having teams maliciously void their contracts in an effort to pay them less—basically by ensuring that if a team does so they'll be forced to either commit to finding a place for the player on the 40-man roster or risk losing him. But it means that Perez now exists in a world where his first contract with the Astros is simultaneously considered real and non-existent depending on which clause of the labyrinthian CBA is being cited.
Ultimately, it's the financial strings attached to international signings that are most responsible for fucking over Perez. He points out that, even after the failed physical, the Astros are willing to pay $4 million for him—but only half of that money will actually go to him as the other $2 million is considered an overage tax.
If the specifics of this seem dense and obscure, take heart, they're about to change! Perez's situation arose under the lame duck CBA that was just rewritten to moderate fanfare. But while the details are different, the spirit of the international free agency—limit amateurs' negotiating power with arbitrary financial caps—remains strong as ever. The hard cap on signing bonuses—replacing overage taxes—will exert its own downward pressure on players' value. And the harsh words from Perez, who sent a separate message to Baseball America avowing that he is still thankful for the opportunity the Astros gave him, are still singularly meaningful as the voice of those most directly impacted.