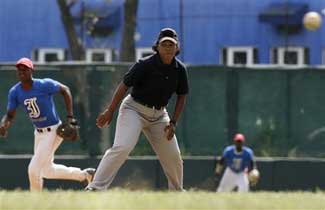 In the United States, when there's a female umpire, she's mocked, particularly if her name is Violet Palmer and she's, uh, not a particularly great referee. But in Cuba, umpire Yanet Moreno is the talk of communist baseball.
In her first season, Moreno doesn't take the kind of ribbing you'd expect a female ump to get. Instead, those who want to jeer do something else. They propose. "Beautiful," they call playfully. "I'll marry you," they say.
It's worth noting, by the way, that Eric Gregg used to hear that all the time.
Female Ump No Problem For Cubans [Lion In Oil]