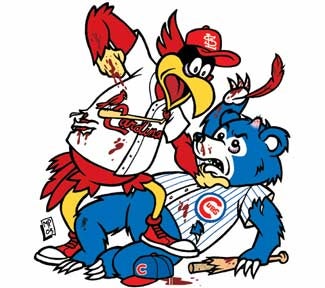 Forgive us a little bit of that "favoritism" that so brands the blog world such a dangerous place ... but we're pretty freaking excited about the Cubs-Cardinals series this weekend.
For years, we have dreamed of a Cardinals-Cubs playoff series. It would be like the Red Sox-Yankees, except everyone would be nicer to each other. The Cardinals-Cubs rivalry is our favorite because it's fierce but good-natured; both team's fans desperately want the others' to lose, and suffer, but it's nothing personal. We're all very Midwestern that way.
The Cardinals are a half-game up on the Cubs in the NL Central, and though it's early May, and it's difficult to argue that the Cubs aren't ultimately the better team, it's still inspiring to dream of a season-long pennant chase. In this 100th year since the Cubs won the World Series, it would have a certain poetry to see the two teams in the NLCS, battling out to decide history. It's not gonna happen, but dammit: We can dream.
Anyway, in case you were wondering what we were up to this weekend. Because of course you were.