Curt Schilling never did play in 2008. He spent the entire season trying to come back from a shoulder injury revealed before spring training, but not without some controversy. Schilling wanted to have surgery; the Red Sox, who had signed Schilling to a one-year contract, wanted him to treat it with rest and rehab. There might have been more—in a radio interview, Schilling says that some in the Red Sox organization encouraged him to consider the use of banned performance-enhancing drugs to get back to playing shape.
"At the end of my career, in 2008 when I had gotten hurt, there was a conversation that I was involved in in which is was brought to my attention that this is a potential path I might want to pursue," Schilling told Colin Cowherd.

Asked for more details, Schilling said the conversation occurred in the clubhouse and involved "former members of the organization - they're no longer there. It was an incredibly uncomfortable conversation. Because it came up in the midst of a group of people. The other people weren't in the conversation but they could clearly hear the conversation. And it was suggested to me that at my age and in my situation, why not? What did I have to lose? Because if I wasn't going to get healthy, it didn't matter. And if I did get healthy, great."
That argument is airtight. PED use is very nearly a win-win situation for players who are already established major leaguers. Increased performance weighed against the very slight chance of getting caught? It's a no-brainer. Even someone like Melky Cabrera, who tested positive months before a potentially huge free agency payout, still got $8 million a year from Toronto—or about six times as much as he was getting in New York and Atlanta, before his stats ballooned.
The more interesting angle is one that's gone largely unexamined—the role of organizations in PED use. The narrative has always been players going rogue, seeing shady outside clinics like BALCO or Biogenesis or at the very least, relying on personal trainers like Brian McNamee. But it'd be naive to think teams aren't up on what their players are putting in their bodies, or even facilitating the doping. Remember, Curt Schilling's not the first Boston player to claim PEDs were given the Red Sox imprimatur.
In 2009, Lou Merloni told of a spring training meeting, where a doctor brought in by the team taught players how to use steroids the right way:
"There's a doctor up there and he's talking about steroids, and everyone was like, 'Here we go, we're going to sit here and get the whole thing — they're bad for you.'

"No. He spins it and says, 'You know what? If you take steroids and sit on the couch all winter long, you can actually get stronger than someone who works out clean. If you're going to take steroids, one cycle won't hurt you; abusing steroids it will.'

"He sat there for one hour and told us how to properly use steroids while I'm with the Boston Red Sox, sitting there with the rest of the organization, and after this I said, 'What the heck was that?' And everybody on the team was like, 'What was that?' And the response we got was, 'Well, we know guys are taking it, so we want to make sure they're taking it the right way.' ... Where did that come from? That didn't come from the Players Association."
G/O Media may get a commission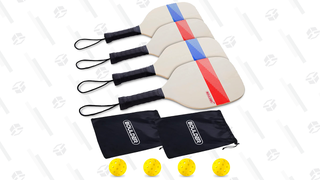 It's Pickleball
Pickleball Sets
Merloni later half-walked back his comments, and Schilling's never been the most circumspect speaker, but they've no reason to lie, and logic on their sides. A team benefits just as much from its players using performance enhancers as do the players themselves. Baseball's war on drugs has always been fought from the bottom up—perhaps a top-down self-examination is in order.