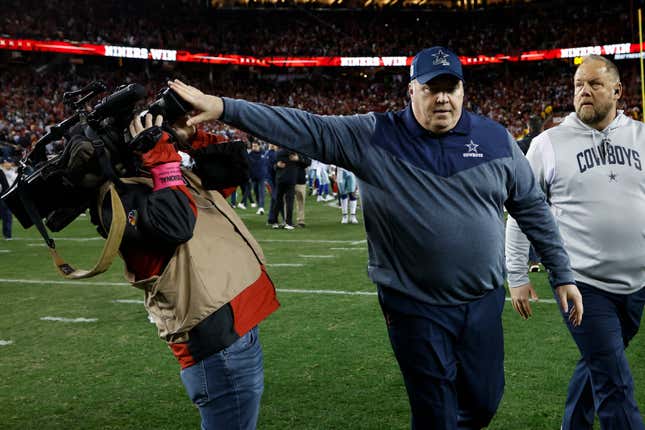 The Dallas Cowboys in-house media pulled no punches in the way that it covered Sunday's 19-12 playoff loss to the San Francisco 49ers.
Rob Parker's NFL Picks for Week 15
Their articles don't put sugar on the Cowboy's performances. Those articles are meant to inform readers, not simply give the Cowboys a round of applause at every turn. The social media team sends out the stories, along with a comment to entice people to read. Those tweets, cut straight to the point, and sometimes harshly.
The tweet that has gone most viral is the one about Dak Prescott. It mentions Prescott's two interceptions and also that the Cowboys had "chances to win if they didn't again generate self-inflicted wounds."
That wasn't the only tweet from the account that was less than complimentary of the team's performance. There was one about Trevon Diggs' dropped interception and another about how this 2022 Cowboys' season could have been special, "but instead ended up being anything but."
Most team social media accounts went out of their way to give their teams a pat on the back once the season ended following a loss in a one-and-done postseason tournament. The Bills sent out a broken heart emoji over an image of the final score of their Sunday loss to the Cincinnati Bengals. The rest of their content for the day was a press conference video and a short video of Josh Allen high-fiving fans on the way out of the stadium. Jerry Jones' team though — that is not how they operate.
Everything Dallas does is different
The Cowboys treat their website and social media as their own news organization about the team. It's why when the Cowboys lost in the playoffs to the Los Angeles Rams in 2019, a tweet was sent out about games being won and lost in the trenches, and that is where the Cowboys lost that game. After last year's playoff loss to the 49ers: "Penalties and unforced errors doom the #DallasCowboys."
It is an interesting way to approach the hours after your players go through a crushing defeat that resulted in their season ending, when independent sports journalists are waiting to dissect everything that they did wrong piece by piece. But, maybe that's just another reason why Jerry's franchise is the most valuable in the world. His in-house media may not spend any time on that picture of him as a student at North Little Rock High School when Black students were being prevented from integrating it, but they will tell it like it is about the on-field product.
This is just another one of many ways that the Cowboys operate differently than the rest of sports. The result is a lot of money but once again, no hardware.