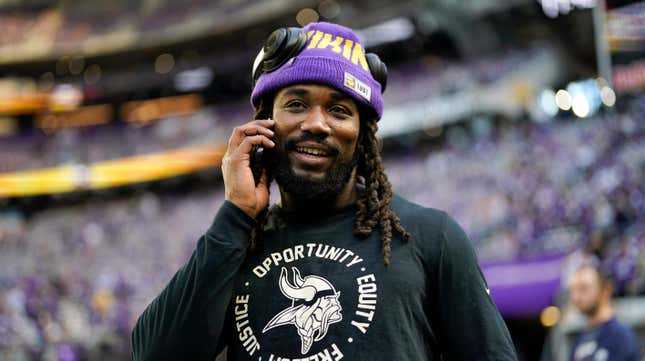 The Dallas Cowboys have a glaring hole in their backfield, and the solution to filling it may have been discovered. News broke over the weekend that the Minnesota Vikings are set to release running back Dalvin Cook on June 1, making the four-time Pro Bowler a free agent. After cutting ties with former All-Pro back Ezekiel Elliott, the Cowboys should jump at the opportunity to pair Tony Pollard with another game-breaker.

Cook has been a Pro Bowl selection for the past four years and has rushed for no less than 1,135 yards in each. Over the past couple of years, Cook had seen his role diminish a bit with the Vikings due to the emergence of Justin Jefferson and an emphasis on the passing game. During the 2020 campaign, Cook carried the ball 312 times for 1,557 yards in only 14 games. In '21, his carries fell to 249 while he ran for 1,159 yards in 13 games. Last season Cook was handed the ball 264 times and rushed for just 1,173 yards as he played in all 17 games.
Dalvin isn't Cooked just yet
It's obvious the Vikings don't see the benefit in signing Cook to a long-term deal. But that doesn't mean he's got nothing left to give. Dallas should seriously consider adding Cook and keeping that one-two punch they had with Pollard and Elliott. Cook and Elliott are the same age, but Cook looks to have another couple years of elite play in him. Elliott's decline was noticeable if you watched the Cowboys closely over the past two years.
While Zeke still got the bulk of the carries (231) in Dallas last year, Pollard was the more productive back for the Cowboys. But the fact remains that Pollard has never received 200-plus carries in the NFL. Pollard rushed 193 times last year and 130 the previous season. So, it's yet to be seen if Pollard can handle upward of 250 carries per year.
One thing we know is the way Dallas' offense is currently constructed; they need to run the ball effectively to take pressure off of Dak Prescott. He hasn't proven to be elite when it really counts, so a two-back system should be where Mike McCarthy is leaning. The Cowboys took RB Deuce Vaughn from Kansas State in the sixth round. He may contribute at some point, but the Cowboys are built to win now, and signing Cook could go a long way in assuring Dallas stays in contention in 2023.
Aside from the obvious, the Cowboys should also want to keep Cook far away from Philadelphia, as that would be an Eagles move to slide in and sign him right under everyone's noses. Plenty of other teams will undoubtedly be interested in the 27-year-old, so the Cowboys need to plan this move now and take steps toward teaming him with Pollard.