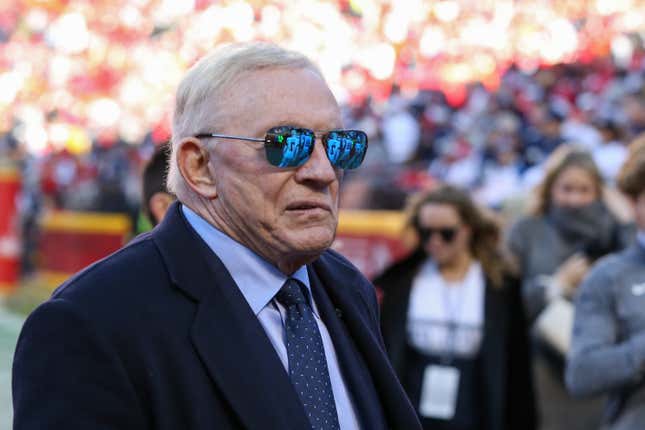 America's Team is worth more money than any other team in the NFL. In fact, the Dallas Cowboys are the most valuable team in the world, according to Forbes. Whether you want to believe they are still "America's Team" or not is irrelevant. The Cowboys are raking in dollar bills hand over fist. So, it's got to be extremely frustrating for Cowboys fans who know this and are forced to watch the Team sit back every offseason and watch other teams sign players left and right.
Is Dan Snyder a human shield for Jerry Jones? | Conspiracy Thursday
No matter the publication, Dallas comes out on top regarding value edging out the Golden State Warriors in the NBA. Yes, it's two different sports with different salary cap systems, but the Warriors have dominated the past decade, winning four championships in eight years. They've done it by building through the draft and free agency. Everyone remembers the heat Kevin Durant received when he signed with Golden State in the summer of 2016.
Who's the last big free agent the Cowboys signed?
On the other hand, Dallas has been hesitant in going after big-name free agents over the past decade. Anytime there's a rumor about a potential free agent, the Cowboys are mentioned, but rarely land said player. The Cowboys have been perceived as the leader in the clubhouse to acquire Odell Beckham Jr., and nothing's happened. Now that OBJ can run and work out, the Cowboys didn't even send anyone to watch him run routes in Arizona last week.
Last offseason, two fantastic free-agent linebackers showed interest in playing for Jones' Cowboys. Von Miller and Bobby Wagner would've both loved to have received an offer from Dallas. While Miller got a huge deal that Jones would've never considered, there wasn't much effort made in the first place. Wagner was much more attainable, and Jones passed on him too.
Arizona Cardinals wide receiver DeAndre Hopkins is a player that could be on the move, and over the past week leading up to the start of free agency, his name has been linked to the Cowboys. Imagine Hopkins and Ceedee Lamb at wideout for Dallas. They'd be the best wide receiver tandem in the league, hands down. There'd be no more excuses for Dak Prescott and that offense. But Jerry won't do it. He's afraid of free agency.
Better draft well
That failed signing of Brandon Carr in 2012 has made Jones rethink his strategy for building a title contender. He mainly does it through the draft. That's fine, but you've got to take a shot when a big-time free agent is available. Most of these players would love to play for Jones. Playing for the Cowboys in Dallas still means something to some of these players. But Jones usually waits until it's too late, and he can pick up name-value guys past their prime.
Cowboys Nation gets excited about everything but free agency. They've been conditioned to not expect much because the owner no longer takes any chances. Jerry boasts about his business acumen and how he's built himself, and this organization then figuratively cries broke when it's time to sign new players. He even did this with Dak Prescott's contract situation a couple of years ago. And they've already restructured his deal.
Jerry, it's OK to spend money in free agency. It has to go to somebody. Take a chance or two or three, and you might end up where you want to be. In the Super Bowl or NFC championship game, at the least.