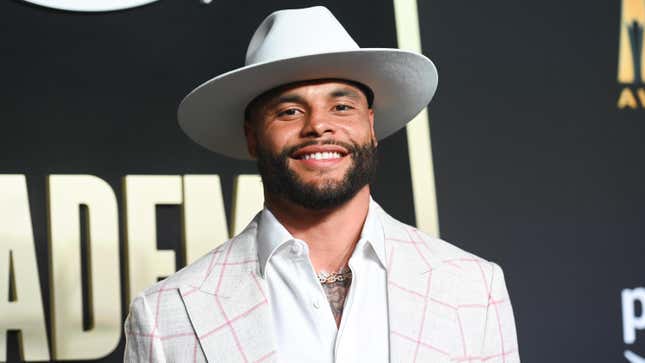 The 2023 NFL season is right around the corner, with the start of training camps just days away. As usual, there are plenty of storylines for fans to follow all over the league, and of course, "America's Team" is never lacking in that department. As if there wasn't enough pressure on the Dallas Cowboys heading into year eight of the Dak Prescott era, the two-time Pro Bowl quarterback added just a little more.

Are the Cowboys that good or are the Giants that bad? | Agree to Disagree
Prescott added more to his plate while speaking to the Fort Worth Star-Telegram by predicting his number of interceptions will be considerably lower than last year.
"I know who I am, and you can go back and take away half of those off drops," Prescott said.
"I'm not saying it's on the receiver, but if you cut that in half, then we start talking about those, nobody is talking about it."
"I won't have 10 interceptions this year."
Can Dak lead a team to the next level?
That was clearly directed at those who question Prescott's ability to take Dallas back to the highest level of NFL success. Or, as FS1 "Speak" host Joy Taylor bluntly stated, "Get to an NFC Championship game." Something the Cowboys have not experienced in almost three decades.
In all honesty, Prescott hasn't exactly proven Taylor, and those who agree with her take, wrong. In seven years as Cowboys starting QB, Dak is 2-4 in the postseason with zero NFC title game appearances. By year six or seven, most players usually are who they will be for the duration of their careers. Prescott's been very good in Dallas and even had several great moments in the NFL. But he hasn't shown the ability to climb up to elite status, nor has Dak proven that he can carry a team on his back to a deep playoff run.
Making this kind of "guarantee" only shows Prescott hears the critics and is focused on proving them wrong. There's nothing wrong with using that as motivation, but the odds aren't in his favor. In Dak's first seven years in the league, he's thrown at least 10 interceptions four times. Prescott played only 5 games during the '20 campaign due to injury and had four picks that season. He would've probably thrown at least another six had he played most of that year.
This isn't about anyone targeting Dak. He's squarely placed an extra bullseye on his back with these comments. Even though he isn't physically responsible for every INT, he's the QB, and the criticism comes with the territory, especially in Big D. Ultimately, he'll be held accountable for the team's highs and lows, whether fair or not. Now he's got to back up his words because everyone keeps receipts now. Less than 10 INTs for Prescott and an NFC championship appearance are the bar in Dallas for the upcoming season.