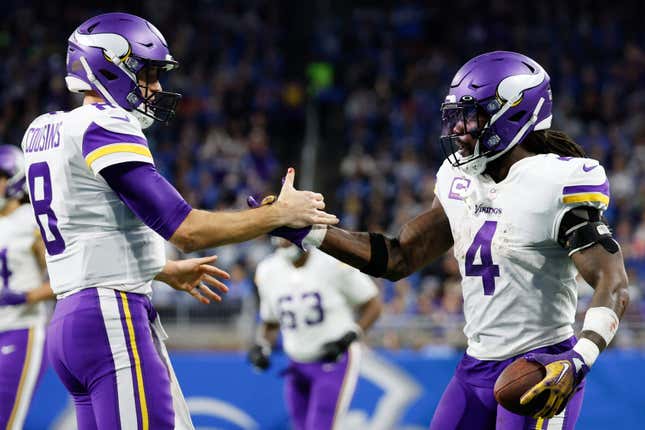 The Minnesota Vikings have made it official: It's all on Kirk Cousins. Skol and longtime running back Dalvin Cook are parting ways, according to Tom Pelissero, and thus the front office is putting the onus squarely on Cousins' shoulders. Whether this is a new direction for the offense, or general manager Kwesi Adofo-Mensah's attempt to end Cousins' future with the team by burying him under a heap of responsibilities and expectations remains to be seen.
Will Ezekiel Elliott or Dalvin Cook have a bigger impact? | Agree to Disagree
However, it feels a lot like the latter considering Adofo-Mensah's comments in May when he said: "Every option is open." The team took Jordan Addison with its first-round pick in the April draft, adding another superb route runner alongside all-world Jordan Jefferson. The move was a further pivot to an air attack that's been supremely productive since the LSU receiver arrived, but I've never met a Vikings fan who's not effusive in their praise of Cook.
Cook still explosive, and still coveted
Cook has had 1,000-yard rushing seasons each of the past four years, while catching anywhere from 34 to 53 balls, and getting into the endzone at least 10 times in all but one of those campaigns. The 27-year-old Florida State product still showed burst in 2022, reeling off an 81-yard run and a 64-yard catch. There will be many suitors, I'm sure, but the running back market is harsh even for a player as deserving and talented as Cook.
The Philadelphia Eagles seem to be the stockpiler du jour these days, and they'll inevitably be linked to him the way the Los Angeles Rams were in the rumors of every big-name vet a few years ago. The Buffalo Bills and Dallas Cowboys are two other franchises looking to be pushed over the top by a skill player, but the Bills added Damien Harris, and Jerry Jones is senile.
The Denver Broncos and Miami Dolphins apparently are in the mix, as well. They have pressing questions under center, who knows about cap space, and I'm not sure how much Cook would help them.
It really depends on what he wants because bottom-of-the-barrel teams are usually the ones offering the most — be it money, playing time, or both — and contenders often require some form of sacrifice.
No more excuses for Cousins
Alexander Mattison will presumably take over Cook's role in Minnesota, with a couple of late-round picks from the past two drafts vying for backup carries unless Minnesota adds a veteran free-agent running back themselves. It wouldn't shock me, or really any NFL fan, if Mattison or some other no-name ends up replicating Cook's production. Yet, coach Kevin O'Connell doesn't seem to care much for running the ball, at least compared to his predecessor in Minnesota.
What scares me if I'm a Vikings fan — other than a borderline cursed playoff existence — is becoming too pass-heavy. Cousins amasses stats as well as any third-tier QB in the league, and at times drops stats comparable to elite guys.
Be that as it may, there's an undeniable untrustworthiness about him, and it's not just his vaccination stance. The New York Giants embarrassed Minnesota at home in Round 1 of the playoffs, and it was compounded by New York's paltry showing against Philly the next week.
While Cook's approval rating in Minneapolis never really dipped, it's hard to find someone in the Twin Cities who is amped for another 18-week voyage aboard the Cousins cruise liner. But regardless of the reason behind Adofo-Mensah's motivations, it's clear that Cousins is the captain now.