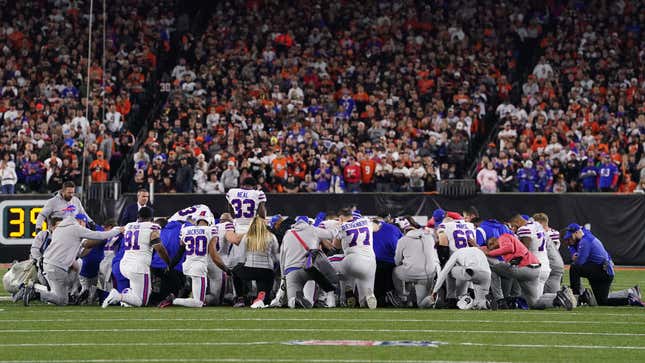 In the middle of the first quarter of Monday Night Football, Buffalo safety Damar Hamlin collapsed after making a tackle against Cincinnati. Hamlin completed the tackle, stood up for a few moments, and fell to the turf. Medical help attended to Hamlin immediately with no quick injury designation given in the aftermath. The game has been temporarily suspended with 5:58 left in the first quarter.

The Bills or Chiefs will win the Super Bowl | Agree to Disagree
After tackling Tee Higgins, Hamlin's head hit the turf in what looked like a routine tackle. Players from the Bills and Bengals quickly surrounded the 24-year-old Hamlin with an ambulance being driven onto the field to better assist medical personnel. The ABC broadcast mentioned Hamlin needing oxygen as he was loaded into the ambulance on a stretcher after being given CPR. After the ambulance left the field, the Bills prayed as a team with several players including Josh Allen and Stefon Diggs clearly being affected and looking devastated by the events.

After such a traumatic event, the question remains of how both teams can come back onto the field and play a game that thrives on physical contact, especially with little detail on Hamlin's condition.
[UPDATE]:
The NFL has suspended the game indefinitely. They'll get together with both teams to try to find a date to play this one. Here's the official statement:
"Tonight's Buffalo Bills-Cincinnati Bengals game has been postponed after Buffalo Bills' Damar Hamlin collapsed, NFL Commissioner Roger Goodell announced.

Hamlin received immediate medical attention on the field by team and independent medical staff and local paramedics. He was then transported to a local hospital where he is in critical condition.

Our thoughts are with Damar and the Buffalo Bills."
We will provide more information as it becomes available.

The NFL has been in constant communication with the NFL Players Association which is in agreement with postponing the game.
Let's not forget that the NFL tried to run the players back out there with a five-minute warmup.
We'll continue to update this story as more information becomes available.