David Ortiz is hitting well, and Dan Shaughnessy wrote a stupid, awful column. Stop me if you've heard these ones before.
Jokic? Embiid? The NBA MVP is obvious... right? | Keep it a Buck(et)
When Shaughnessy committed 1,000 words of attempted character assassination, Ortiz was hitting .426 with four home runs and 17 RBI in just 15 games. There are many ways to write that story. You write about Ortiz's veteran leadership on a young, unexpectedly successful Boston team. Or about Ortiz's determined comeback from an Achilles injury. Or about how Ortiz, at age 37, has once again responded to reports of his demise with another incredible start.
Here's the very first paragraph of Shaughnessy's story in the Boston Globe:
Hitting is not this easy. Athletes do not get better as they mature into their late 30s. Baseball has been peppered with performance-enhancing drugs for the last 20 years. The cheaters are always ahead of the testers. A number of players from the Dominican Republic have tested positive for steroids. Injuries to the Achilles' tendon are consistent with steroid use. It is not natural for a guy to hit .426 out of the gate without the benefit of any spring training.
G/O Media may get a commission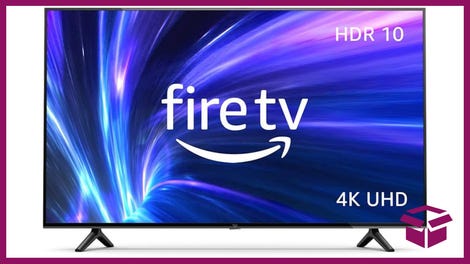 42% Off
Amazon Fire TV 50" 4K Smart TV
Except, this isn't a column accusing David Ortiz of PED usage. It's a column about David Ortiz denying accusations of PED usage. Except there are no active accusations, so Shaughnessy has to create them, confront Ortiz with them, and then run his denials. The truly incredible part is that at some point, this logic ran through Shaughnessy's brain and he decided it would be a good idea for a column.
You want more?
This is an uncomfortable topic, but it's preferable to question a man face-to-face than to tarnish him by whisper and innuendo. I went to Ortiz Tuesday afternoon in the Sox clubhouse and put some hard questions to him. I told him he looks dirty.

[...]

Because what you are doing looks too good to be true.

"They test me all the time," he said. "They make you pee and they test your blood, too. This year I would say I've probably been tested five times, peeing. Blood, just once. That was in spring training. They don't warn you. They just show up.''

What it is like to be suspected?

"I don't think I have been," he said. "Nobody comes to me and tells me, 'They suspect you are using steroids.' ''

But you fit all the models. You are from the Dominican Republic. You are an older player. Older players don't get better. You've had injuries consistent with steroid use. You showed up on the list from 2003. You fit all the formulas.
Remember when a blogger was crucified for questioning Raul Ibanez's resurgence in 2009? Jerod Morris was just a few years early—roid-baiting is now the stuff of major metropolitan newspapers.
Ortiz responded yesterday, in an interview with ESPN Deportes. He took issue with Shaughnessy citing his Dominican nationality as a checkmark in the "he's probably doping" column, even though more Americans than Dominicans have been suspended. But he really gets to the heart of the matter when he notes this is a media thing, and slightly more specifically, a Boston media thing:
"I have spent many years in Boston and still do not know the right way to do things: Do it right or do it wrong," Ortiz said. "If you do it wrong, they'll finish you. If you're doing well, they'll finish you, too."
The Red Sox have been in first place for most of a season in which they're supposed to finish last. If there's not enough there for a local sports columnist without having to resort to sorry-I'm-not-sorry defamation after a month, I feel for Dan Shaughnessy's shriveled black writer's soul. But Boston's lost three in a row, seven of 10, and Ortiz is hitless in his last 13 at-bats. Shank can happily go back to blasting the team for being bad, which is a lot easier and more straightforward than this tortured bit of "I'm just asking questions."