Dan Snyder's lawyers yesterday filed a brief in D.C. Superior Court as part of Snyder's dumbass legal jihad against the Washington City Paper. Snyder's lawsuit looks for all the world like a "strategic lawsuit against public participation." Even the ACLU thinks so. Such "SLAPP" suits are deployed by rich bullies to discourage free speech. But now comes Snyder to argue that the anti-SLAPP law passed by the D.C. Council mere weeks before he filed his dumbass lawsuit is unconstitutional. Why? Because the elected officials in D.C. have no power to pass laws that govern the D.C. court system that enforces the law for the D.C. residents who elected the officials, according to Snyder.
This all has to do with the Home Rule Act of 1973, which ceded certain powers of self-government to D.C. but left Congress running the show in many other ways. I won't bore you with the specifics but Snyder does appear to have grounds to make his argument. From his complaint:
Just as sure as 'Congress shall make no law . . . prohibiting the freedom of speech,' so, too, the D.C. Council may make no law with respect to the manner in which the D.C. Superior Court conducts its affairs." Then the document invokes Article I, Section 8 of the Constitution, which gives Congress the power to "Exercise exclusive legislation" over the District of Columbia. Further, it notes that Congress has "expressly" prohibited the District from effecting "any act, resolution, or rule with respect to any provision of Title 11 of the District of Columbia code (relating to organization and jurisdiction of the District of Columbia courts).
The question is does he really want to make this argument? Residents of D.C. are already some of the more shat-upon citizens in the land, paying federal taxes as they do while having no representation in Congress. Washingtonians also regularly suffer the worst kind of abuse from slavering egomaniacs hellbent on decimating beloved public institutions. I speak, of course, of Dan Snyder. His every action in the McKenna/City Paper saga confirms every terrible thing that's been said about him. And his latest legal ploy speaks to the lengths to which he'll go to win, even though he never will. If the number of fans buying season tickets or attending Redskins training camp is any indication, he's already losing. From the Associated Press:
Others conceded a more fundamental problem. The Redskins' popularity, as hard as it is for the die-hards to admit, just isn't what it used to be, the result of consistent losing and an unpopular owner. The team that likes to brag about a sellout streak dating to 1966 - and has claimed to have as many as 200,000 people on its season ticket waiting list - has this year removed some 10,000 upper-deck seats from FedEx ( FDX - news - people ) Field. Stadium vice president of operations Lon Rosenberg told ESPN980 last month those were seats that people on the waiting list "were not wanting to buy."
People who aren't on the waiting list apparently didn't want them either. Partin says he never signed up for the list, but he's been solicited multiple times with what in theory is supposed to be a once-in-a-lifetime chance to secure seats.

"They like to say the waiting list is really long, but I've gotten two or three calls this summer already," he said. "I'd rather just watch the game on TV."

Justin Caballero from Emmitsburg, Md., a long-time training camp regular, said it's surprising to see the shine taken off a proud franchise that has always been so overwhelmingly popular throughout the region.

"I know some who have gotten rid of their tickets," Caballero said. "The owner - that's the biggest one I get, they don't like the owner. And they don't want to give him no more money."
G/O Media may get a commission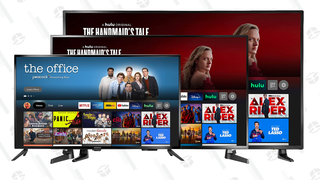 Up to 44% off
Prime Early Access - Insignia Fire TVs
Daniel Snyder v. City Paper: The next round [The Washington Post]
Small crowds at camp reflect Redskins downturn [AP]