The play above happened early in the first half of last week's game between Ohio State and Iowa. That's Buckeyes freshman guard D'Angelo Russell throwing a near-incomprehensible bounce pass, a corkscrew of a ball that was thrown not only from a crazy angle, but with a wild amount of foresight. Look at where Russell's target is when he decides to make the pass; he's seeing into the future there.
Last night against Northwestern, Russell made basically the exact same pass:
These two highlights are a pretty fair representation of what kind of season Russell has been having. The 6-foot-5 freshman has been dazzling, averaging 19 points, five rebounds, and nearly five assists per game while shooting 47 percent from the field. In his first season, he's already become Ohio State's alpha dog. Ken Pomeroy's numbers have him soaking up a team-high 29 percent of offensive possessions and accounting for more shots (29.5 percent) than any other player on the team.
Putting the ball in Russell's hands is a good idea, simply because there are so many ways he can break down a defense. His court vision and size allow him to key the offense as a point guard whenever he feels like it, his length makes it easy for him to finish in the lane, and he's an absolute killer from beyond the arc. He's firing up 6.4 threes per game, and connecting on 45 percent of them. He's a great spot-up shooter from deep, but he can also knock down pull-up, quick-trigger threes with an ease that evokes visions of Steph Curry. According to Synergy Sports, Russell is shooting 49 percent on jumpers off the dribble, and producing an excellent 1.2 points per possession on those shots.
G/O Media may get a commission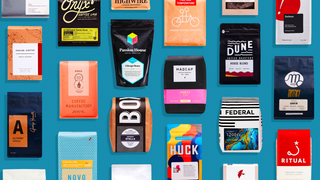 Get $25 free
Trade Coffee - National Coffee Day
In addition to all the great numbers Russell is putting up, he's just plain fun watch. Those crazy bounce passes are great, but they aren't aberrations. Russell is constantly doing stuff on the court—throwing no-look passes on the break, tossing in nifty floaters after wriggling into the lane, using his length to grab rebounds a guard has no business reaching—that makes you take notice. He's not one of those guys that blows other teams off the court with his speed or power, but he knows exactly which spots to occupy and which angles to glide through when it comes time to pick apart a defense.
Russell also represents a nice antidote to the Ohio State teams of the recent past, the ones that featured a backcourt combination of Aaron Craft and Lenzelle Smith, two perfectly decent players whose offensive games were about as explosive as an old YMCA veteran's. Ken Pomeroy's offensive rating has this year's team as the 23rd most efficient team in the country, a decent step up from last year's team, which was ranked 128th. This year, Ohio State won't be the cloying, defensive-minded team that everyone wants to see get bounced from the tournament as soon as possible. They'll be the team with the one player you can't take your eyes off of.