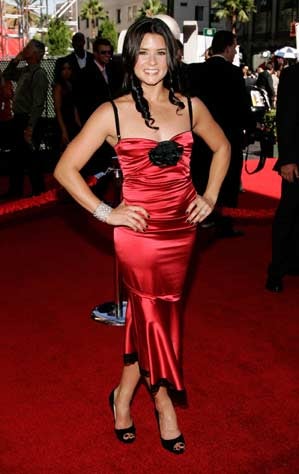 Danica Patrick, known to many sports fans as "the woman who is competent enough to be taken seriously and attractive enough to be overrated," finally won a race this weekend. Some have been mocking the achievement, but we dunno, we think it's impressive. It's hard to win races, you know?
Sure, Patrick is overhyped because she's a woman, but ... so? It seems odd for people to mock her achievements when, you know, they don't really know anything about IndyCar racing; suddenly, everyone thinks they're experts in something when they probably couldn't name another rider in the circuit.
It reminded us of that racer who said Danica Patrick had an unfair advantage because she was smaller, allowing her car to move quicker. This struck us as quite rich. We have finally found one aspect of sport in which a woman might have a physical advantage over a man ... and people are claiming that it's unfair. Yeah, it's really unfair that men are so much larger than women and can therefore play linebacker.
Most Meaningless Sports Triumphs [The Angry T]