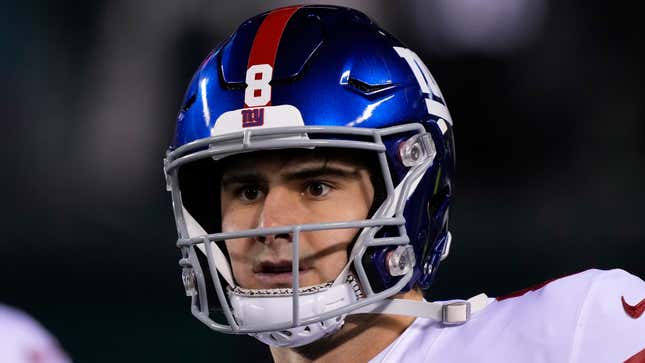 There aren't a lot of NFL Draft takes left in this burlap sack I call a brain, so my apologies if this is recycled, but is Daniel Jones deserving of a No. 1 wide receiver? The New York Giants quarterback got paid this offseason, and now Joe Schoen and Brian Daboll are stuck — err, excuse me — have the privilege of continuing his development.
Flopping Suns owner Mat Ishbia should've been ejected after Nikola Jokic incident | Andy Reacts
I'm not saying the Giants don't need receiver help. They desperately do. Most of the completions last year were a result of scheme more so than talent, which resulted in Jones completing a career-high 67 percent of his attempts. Daboll is so good at play design that a lot of the thinking is done pre-snap, thus allowing Jones to operate on primal instinct.
Well, the same can be said about the receivers. Why do you think the Giants were getting production out of practice squad players a year ago? It didn't matter who was on the field, they'd run a sly rub play on a cornerback here, a little misdirection in the flat there, maybe Darius Slayton deep shot over here, and whether the recipient caught it was more often dependent on the throw than the receiver.
That tells me that the Giants don't need to spend a first-round pick on a guy who isn't going to be Jones' No. 1 boy because the receiver class is spotty, and the first-round prospects need highly functioning passers to be effective.
In order to take full advantage of a Jordan Addison, you need someone under center who can dissect defenses in real time like a Patrick Mahomes, or a Tom Brady. Both QB and wideout can run really advanced, AP Calc-level stuff like those option routes to get the most out of the equation. I think Danny Spare Change is still in Applied Physics, making cardboard boats with the rest of the washouts.
While he may get (close to) there eventually, let's make sure he's able to take advantage of a true No. 1 target before reaching on a prospect who's probably not that to begin with. New York doesn't need another Kenny Golladay or Evan Engram situation where they spend real capital — first-round pick or salary cap space — on a talented player only for the QB to utilize 25 percent of said target's skills.
Can't curate a sixth sense
The best passers in the history of sports — your Steve Nash, Andrés Iniesta, Nikola Jokić, Drew Brees, etc. types — all have supernatural field vision. It's artistry. They see things happening 12 steps ahead, have the anticipation of a dove hunter, and are able to lead teammates with deliveries so well-placed they make you want to tip your Amazon driver.
None of the players mentioned or attributes described in the previous paragraph are applicable to Jones. The best-case scenario is he's a less prolific but safer (and more fragile) Josh Allen. Obviously, an acquisition like Stephon Diggs helped Allen tremendously, but there isn't a receiver of that caliber in this draft.
Honestly, Diggs is a perfect comp because Jones is more likely to top out at Kirk Cousins than ever reach Allen, and become a borderline MVP. Think of how frustrated Diggs was in Minnesota. He still put up numbers, yet it felt like he wasn't maximizing his potential.
Regardless of who the receiver was on a team with Brady or Brees — if they had an iota of ability, the signal caller would find a way to find them. I don't think it's a coincidence that Engram popped once he found Trevor Lawrence, or that Golladay dipped once he donned the Big Blue. They need to be paired with a lot better passers than Jones to merit the cost.
A coach as good as Daboll is offset by a QB as serviceable as Jones, so surround the "franchise quarterback" with a few more misfit toys on the cheap until a can't-miss option becomes available. The Giants' salary cap is already fucked after the Jones deal, and Saquon Barkley is annoyed because he's getting franchise tagged yet they need to keep him. The threat of Barkley and the run game is what opens up holes for Jones to dash through.
This is not the time to double down on previous mistakes when it's been proven that the offense can be successful with Cousin Greg running drag routes. Literally any upgrade at receiver will feel like an upgrade, and New York's roster depth doesn't exactly reek of San Francisco. Try to get a vertical threat later in the draft like Jalin Hyatt or Trey Palmer, and hope whoever can run a straight line, and catch deep balls that Slayton couldn't.
No slight to Danny Jones. Well, actually large slight to Danny Jones. He needs $40 million a year or whatever? Cool. I hope he likes bargain bin receivers because he's still figuring out the forward pass and there are needs elsewhere.