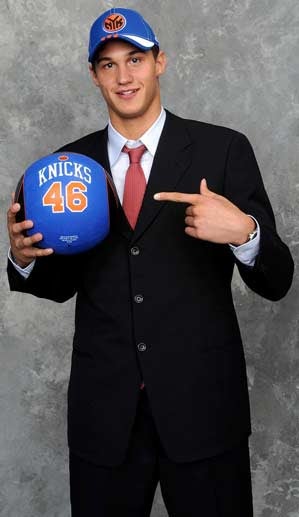 Somehow, a little part of us wonders, had Knicks fans known his nickname and true self, if they might have cut him a little more slack. Instead, as we sadly predicted, Gallinari got the royal New York treatment last night.
There's a tendency, when an athlete comes to an American sports from another country (particularly a European one), to make fun of them for not understanding our sports culture, as if they are dumb or have never seen fans boo before. The guy's from Italy. We're pretty sure he's dealt with crazy fans before. Knicks fans booing? That's nothin'. Though he could definitely improve on his ability to appropriately Vogue.
The general consensus — as if anybody knows anything — is that the Trail Blazers did well, the Bobcats did poorly and that the Nets are so desperate to land LeBron that they're willing to play Vince Carter and four stooges for the next couple of years. That makes an odd amount of sense.
By the way: The Stephen A. Smith Heckling Society returned, again, to watch the man work.
By the way, what can we possibly say about yesterday? We didn't know it was happening and were absolutely blown away. Simmons? Van Pelt? That RIDICULOUS Skeets video, which we could send to Bob Costas if, you know, Bob Costas had an email address. We're not sure what we can possibly say except to salute the genius of Drew and Daulerio for putting it together and to be supremely aware that there's no possible way we're gonna be able to top that today. We'll try to finish up around 5 today so everyone can go enjoy their weekend. So bear with us.