Darren Rovell makes mistakes. We know this. But today he didn't even bother correcting one.
Last night, Bears defensive lineman Israel Idonije tweeted out an Instagram photo for a bill from dinner. The bill's cost? $38,091.91.
Rovell got to work writing up an item about it. His story went up a little after 10 a.m. this morning (Here are a couple of crappy screengrabs of the original item). There wasn't much to say other than this was a big, expensive dinner, so Rovell does what Rovell does and included some background on rookie dinners to pad the item:
The bill is much more expensive than the tab the Miami Dolphins' rookies reportedly picked up for a steak dinner on Monday night. TMZ reported that "several unlucky rookies" picked up a $7,400 bill at Prime One Twelve in Miami Beach. The website said 10 offensive linemen attended the meal.

TMZ said the rookies split the meal commensurate with how much each of them made.

The most famous rookie dinner bill was $54,896, the price Dallas Cowboys wide receiver Dez Bryant paid in 2010 for a meal as a penalty for refusing to carry Roy Williams' gear.
G/O Media may get a commission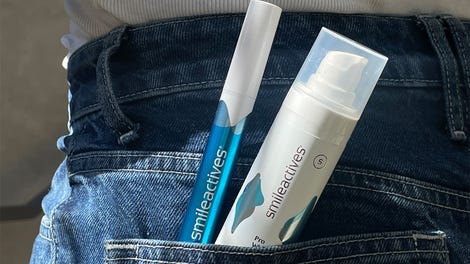 58% off
Whitening Powerhouse Pen & Gel Duo
But what a shockeroo: After Rovell picked up the story—and he wasn't the only one—it turned out to be a hoax. What do you know: That item on the receipt listed as "BEARS DINNER (3 @ 9999.00)," accounting for $29,987 of the total, wasn't on the up-and-up.
That tweet came out 59 minutes after Rovell's story went up. So, ha ha, Rovell got duped again, but no biggie. Just add in a quick correction, right? We all move on. The Chicago CBS website added an update, after all.
Well, too much work for Rovell. He slid this line into the middle of his piece.
But was it all a bit of rookie hazing? He later tweeted it was a joke to play on the first-year players. A source confirmed that the restaurant printed the fake bill.
No correction or update notice was added. The headline on the item remains "Expensive dinner for Bears' rookies." After Rovell got duped by that teenager over the summer when he was still working for CNBC, he at least added in a correction that included the lines, "He duped me. Shame on me. I apologize to my readers."
Maybe ESPN doesn't do apologies.
UPDATE, 4:22 p.m.: Still no correction but the headline has magically changed. "Expensive dinner for Bears' rookies" has transformed to "Expensive dinner for Bears' rookies—or was it?" Nice work, guys! Slick.