"I tweeted 171 times on Super Bowl Sunday, but at any given time on that day, I had about 250 tweets ready to go that I prepared in the months, weeks and days before the game." That's ESPN's Darren Rovell, in a blog post on Medium about how he, uh, did a good job(?) on Twitter on Super Bowl Sunday—like what does it even mean to succeed at tweeting?—and making me turn all the lights off in my home and stare at where I imagine my hands might be in the dark for a long time.
Picture it. My god, just picture it. Picture ESPN's Darren Rovell in, like, January, learning some random shit about Jared Allen and making a mental note: Oh, that'll be a good Super Bowl tweet. Meticulously crafting reams and reams of Super Bowl tweets, paper lists, digital ones, printouts of press releases for Super Bowl commercials to come; toiling, taking notes, sweat on his brow, leveraging the platform, preparing to enhance brand visibility, to be an influencer. Picture him taut, focused, hard at work, getting the tweets out on time, in order, tracking them, their shares, their resonance; celebrating the winners, the big successes, the social media engagement.
Or, just watch this, the saddest and most harrowing video I have seen in my goddamn life, which is included in ESPN's Darren Rovell's blog about his Super Bowl Sunday tweets:
Fun fact: Swap out the thumping electronic music for some tinkling piano shit and this video erases Death of a Salesman from human memory.
G/O Media may get a commission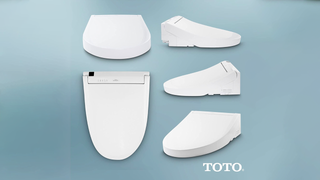 44% off
Toto Washlet Electronic Bidet Toilet Seat
"I've kind of been building up for weeks and weeks," he says, "trying to figure out what my content's gonna be." His Twitter content. The content of his tweets. Tweets like this one, God help us:
Behold: Plugged-In Social Media Powerhouse Man! Here is his "Tweetdeck." He has "notifications." At times he receives "a text." "We are rockin'," he says. About his tweets. His Super Bowl tweets. The Super Bowl tweets he planned "months, weeks and days" in advance.
"This is gonna be a big one," he says, as we see a screencap of this presumably un-pre-fabricated tweet ...
... featuring an egregious typo (needs a "neither" before Budweiser, no?) that makes it say the opposite of what it's supposed to say. No time! There's no time, dammit! Gotta get out the tweets! Gotta leverage the platform!
"I was humbled that social metric company Onalytica named me the #1 influencer on Super Bowl Sunday," writes ESPN's Darren Rovell. My God, my God, he is righter than he knows.
[Medium]
---
Contact the author at albert.burneko@deadspin.com.