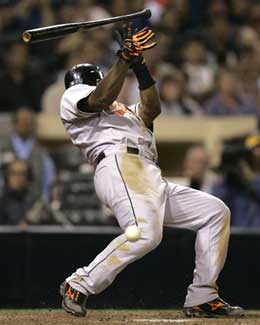 We don't want to say that Baltimore interim manager Dave Trembley should perhaps rent, not buy, but ... well, it's probably a bad sign when you've had to make one real decision as manager, and your decision already has everyone wanting to fire you.
As you've surely heard by now, Trembley played Miguel Tejada for one inning yesterday afternoon so he could keep his consecutive games streak intact. This is shaky in the first place, but in Baltimore, which is home of freaking Cal Ripken, for cripes sake, it went across like a leady leaden piece of lead.
On the list of sham attempts to influence records, this, to me, exceeds Brett Favre lying down so Michael Strahan could get Gastineau's sack record. The whole point of being the Iron Man is that you not only show up every day, but you show up every day to play every out, and you're good enough to do it without hurting the team. I, personally, can't wait for the O's to trade Tejada, but they can replace Trembley without a suitor. Bring on Rick Dempsey!
Not that it matters now anyway: Tejada's wrist is broken and the streak's over anyway. That is, unless, Trembley keeps putting in for an inning anyway, regardless.
Tejada's Wrist Broken [MLB.com]
Miguel Tejada, Dave Trembley and Respectability [Oriole Post]
Fire Dave Trembley Now [East Coast Bias]