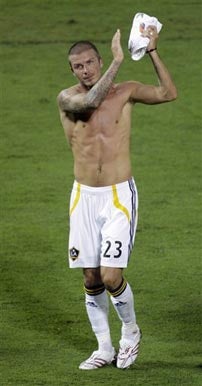 In all the hullabaloo of Rick Ankiel, John Daly and cockroaches crawling up Tony Romo's uniform, we almost forget the real story: David Beckham ran up and down a field for about 20 minutes!
Beckham — who seriously needs absolutely no excuse to get shirtless — made his MLS debut last night. His team lost, but it was apparent to most that he instantly made his team better. In case you were losing sleep over how the Galaxy would mesh with him.
The fact is, Beckham in his 20 minutes, launched more dangerous attacks than the Galaxy had had in the 70 minutes previous. After one rather optimistic ball from midfield that landed within the 6 yard box, and the United keeper's hands, Beckham played a series of dangerous balls.
He says the ankle is "fine," folks, so you may now rest easy. Next stop: East Rutherford!
Get Used To It, Becks! [I Dislike Your Favorite Team]
Beckham Will Help Galaxy, But Not Tonight [The Fanhouse]