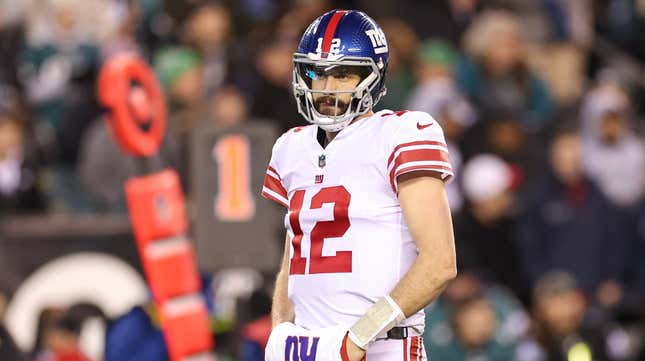 According to Sean Payton, and many others who have made football acquaintances with former Giants backup QB Davis Webb, he is a bookworm when it comes to the sport. Payton said that the 28-year-old Davis has a computer file with every game plan that he's ever had since high school. He may turn out to be a great head coach one day, but it's quite a surprise that his playing career ended in January 2023 and he is already a quarterbacks coach.

The season might already be over for these two
The job in and of itself is a tremendous responsibility. A quarterbacks coach has to run the quarterback room and be the voice in the starter's ear all day, every day. Managing the most important position in team sports is enough work to fill far more days than there are on the calendar.

Webb is just 28 years old
Accompanying that stick of work is the carrot of career jet fuel. If a QB coach does the job well, then a head coaching opportunity is not far down the line. Payton was Bill Parcells' QB coach in Dallas before he became the New Orleans Saints head coach for over a decade. Payton however, like most football coaches, began his career as a graduate assistant. They usually start there or in a quality control role before they can even sniff a position-coach gig.

Webb stepped right off of the field to become the Denver Broncos' QB coach, and may be a head coach before he turns 32. He told Denver7 News' Troy Renck that as a rookie with the New York Giants, he had to "help" Eli Manning three days a week which gave him some early experience in collaborating with a starting NFL QB.
Maybe he is a prodigy, and will lead the next offensive revolution in the league. However, the road wasn't this smooth even for another former player who has shot through the coaching ranks — DeMeco Ryans. His career ended in 2016. In early 2023 he was named head coach of the team that played most of his NFL years with — the Houston Texans. As quickly as Ryans has risen to an NFL head coach, his start was in 2017 with the San Francisco 49ers as quality control coach.
Jeff Saturday being hired halfway through the Indianapolis Colts' 2023 season caught the ire of coaches, talking heads, and columnists far and wide. The Colts were 3-5-1 with no answer at quarterback and an injured Shaq Leonard. A disaster that is commonplace for a Black coach to get the privilege of guiding a team to complete destruction. Instead, it went to Saturday, who had never coached in the NFL or at the collegiate level.

The NFL falls short of racial equality in the coaching ranks
It should be a relief, and a sign of progress that the Black guy wasn't given gruel from Big Brother and asked to make the best meal he can out of it before receiving the inevitable pink slip. But the Colts took someone out of an ESPN daytime chair, eight games into the season, and put the headset on his head. Reggie Wayne was literally on the staff as the wide receivers coach — albeit in his first season. Why not give him the quick pay raise for a lost season and put him back as a position coach the next season?

While what happened with the Colts was a bad look — especially with Brian Flores' discrimination case in the courts — that was an undesirable job. Working as a quarterbacks coach under Payton is a resume highlight. Sure, Joe Lombardi was fired after two seasons as the Los Angeles Chargers offensive coordinator, but he was presented with the opportunity to design an offense for a young rising star in Justin Herbert. If the Chargers beat the Jacksonville Jaguars in their wild-card matchup, then maybe Lombardi is a head coach in 2023 instead of nustling himself back into Payton's bosom.

A prime assistant coaching opportunity — and it goes to a white man who was drafted the same year Ryans entered the coaching ranks as a quality control assistant. This type of situation is why regardless of what the United States Supreme Court, Ron DeSantis, or Greg Abbott say, racism is systemic.

Nazi flags are being displayed more freely in America, so, of course, there are plenty of individual racists walking among us. They should be called out, but limiting racism to just them undersells just how deeply infected the world is with the cancer. A cancer that saps the speed from the ascension of many Black professional careers.

It would be great for Tyrod Taylor or Tyler Huntley to get an NFL quarterbacks coach job right after playing. Maybe by the time they try more progress will have been made, but it's hard not to be pessimistic. The Philadelphia Eagles current offensive coordinator — Brian Johnson — got his start early as quarterbacks coach at Utah when he was 22 years old. He has never been a head coach and it took him 11 years to get to the NFL.

Webb's task is massive. He has to get the best out of Russell Wilson — who is six years his elder — and looked spent after Week 3 at the latest. He will have Payton to guide him so the transition will be as smooth as possible.

A great opportunity, and what a shame in 2023 how hard it is to imagine a 28-year-old Black man getting this kind of jet pack to start his pro coaching career.