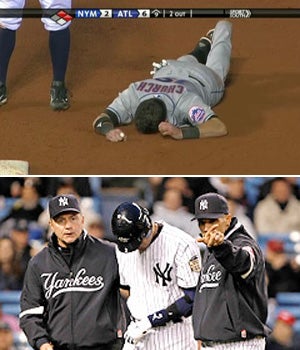 Oh, the carnage (covers eyes). Well that's it, there are no more indignities left. Following Tuesday's games, New York has seen them all. The Mets dropped a doubleheader to the Braves, featuring Ryan Church's attempt to break up a double play at second (Fail). Meanwhile, the Yankees lost to the Orioles in spectacular fashion, 12-2, with Alex Rodriguez hitting a garbage-time homer in his return and Derek Jeter getting plunked on the wrist. As a squat, leathery alien once said in a Spielberg film: "Ouch."
Unless you're still basking in the afterglow of that Super Bowl victory, its a very bleak picture in New York right now; steel-reinforced shitstorm umbrellas are being feverishly mass produced there as we speak. For the Mets, Pedro is on his way out, Willie Randolph feels that he may be as well, and the team is in fourth place (although only 2 1/2 out of first). Atlanta swept the DH, 6-2 and 6-1. Church was knocked loopy in the second game when he slid way outside the basepath at second to try and disrupt Yunel Escobar's throw, instead getting an inadvertent knee to the head. Result: Mild concussion, resulting the the sudden ability to speak French.
Jorge Campillo got his first major league win and Tom Glavine his 304th. For Glavine, it was his first win since leaving the Mets. Brian McCann homered and drove in three runs in the first game, and Mark Teixeira reached base seven times in the doubleheader on four hits and three walks. Your Chipper Jones batting average update: .409.
Meanwhile the list of Yankees woes sounds like a Billy Joel song, as they fell to 20-25, 7 1/2 behind first-place Boston. Jeter made a costly error and now is day-to-day with a bruised hand ("I've got no hand, Jerry!"), the team has lost four straight and six of seven, Mike Mussina couldn't get out of the first inning, Jorge Posada is still out, Joba Chamberlain is proving to be human after all, and there may be more Red Sox crap buried under their new stadium. (Otherwise things are just fine). Adam Jones had a three-run double for the Orioles, who have won eight of 10.
• Are You Ready To Rock? Sweet Fancy Moses what's this? Apparently the Diamondbacks' pitching staff has cleaned out a storage room at Chase Field and converted it into a music studio. Who plays the moonshine jug? One thing I didn't know: Brandon Webb, who has won 11 straight starts, is baseball's winningest pitcher since 2005 (57).
• The Day The Music Died. Your Gibson guitars and awesome drum kit will not help you now, Diamondbacks. Dan Uggla hit his 14th home run and Kevin Gregg escaped a bases-loaded jam in the eighth as the first-place Marlins beat first-place Arizona, 3-2. Florida had not beaten a team with a winning record since May 1.
• Jon Lester Is A Tough Act To Follow. Justin Masterson was born in Kingston, Jamaica, resides in Beavercreek, Ohio, and played for San Diego State. Until Friday, he was a Portland Sea Dog (Class AA). And now that the introductions are over, please note that he went 6 1/3 shutout innings, allowing three hits, in Boston's 2-1 win over Kansas City on Tuesday.
• Aaron: 'I Still Consider Myself The Home Run King.' Even while seriously dissing Barry Bonds, Hank Aaron still manages to sound classy.
• The Replacements. Greg Dobbs got his league-leading 10th pinch hit — a bloop single to center in the ninth — scoring pinch-runner Eric Bruntlett to give the Phillies a 1-0 win over the Nationals.
• Wizard Cat Defensive Player Of The Day. Greg Smith, Oakland Athletics. There's nothing a cat enjoys more than a nice warm saucer of milk, an oblivious mouse and a perfectly-executed pickoff throw. This is a thing of beauty, just like Wizard Cat. It gets: Three wands.
Contact Wizard Cat at Wizardcat@live.com